Optoma BE Live5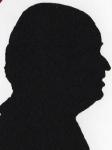 The latest Bluetooth earbuds to cross my desk arrived close to same time as a couple of recent SmartPhones neither of which have a standard 3.5mm socket so ideal to test these earbuds with so they have had a thorough work out.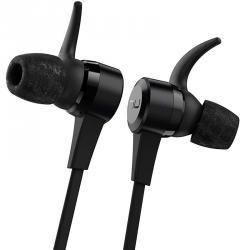 click image to enlarge
From one bud to the other is 54cm as these are the type of earbud that have a cord connection between the buds. This enables you to link them behind or in front of your neck according to your preference. There is a tiny 1cm button in the lead that enables those with small necks to get any excess lead out of the way.
A 4.5x1x.6cm box sits 10cm down from one bud that allows you to make music choices, answer phone calls etc. without having to remove your SmartPhone from your pocket, certainly not something you should be wanting to do on a busy street. This box has a panel in one side that flips open to charge the buds with the supplied micro USB to USB lead. This process can be completed using a USB port on a PC or a wall socket. In my tests the buds charged at 1% per minute or slightly faster. While on figures the claim time of use between charges of 'up to eight hours' was normally slightly exceeded although during the last hour you have to put up with a voice frequently reminding you that 'battery is low'.
Linking to your SmartPhone is simply a matter of selecting it from items discoverable in Bluetooth a one-time process as connection after that is automatic once in range. On the phones I tested these buds with anyway they also showed the state of the battery in the buds.
The buds out of the box have the largest of three sizes of Gels fitted. I found for my fussy ears I needed the smallest size. There are also three sizes of fins provided and these fit onto the buds before you attach the Gels.
There are also a couple of noise reduction Gels supplied.
My tests found that if you are going to use the buds in noisy environments these will be required. However I always caution about using such Gels as they do substantially reduce external noise and you may not hear a warning car horn.
For my music and speech tests I have an MP3 player with the whole Gamut of audio and sound files and these I transferred to the two phones I used to test these Bluetooth earbuds. I found no problems with clarity of sound even for the higher pitched female voice which is often a problem for those of use with reduced hearing.
Those who like excessive bass sounds may be disappointed, so maybe not for that group of people. I see they are IPX5 certified so those into exercise in the rain should be safe.
The Optoma BE Live5 are available from Amazon for £89.99 with free delivery.