Oppo Reno2 Z camera phone

Review controls
With the Reno2 Z Oppo is offering a mid-range smartphone with a wide range of impressive photo and video features.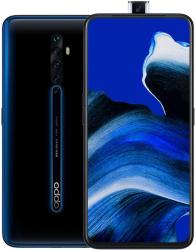 click image to enlarge
As it becomes increasingly important to capture "moments", users are placing greater importance on the range of features for shooting of both still and video images. The 2 Z incorporates a total of four rear cameras and sophisticated software to aid the user in this quest.
The phone is roughly 75 x 160mm in size is about 9.5mm thick and weighs 200g. Its 6.5 inch AMOLED 2340 x 1080 pixel display is incorporated into a seamless, one-piece curved body. Instead of a "notched" display there is a motorised pop-up front camera which is automatically raised when needed. The volume controls are on the LH side of the phone together while the power button and SIM drawer, which can accommodate two nano SIMs and a micro SD memory card, are on the opposite side.
On the rear of the phone there is the group of four cameras and the associated flash. The main one is 48MP with x10 digital zoom, and the others are an 8MP wide angle lens and a further two 2MP mono lens with portrait modes. The available camera modes include photo, video, professional, portrait, night scene and time-lapse etc. These cameras also support video modes including 4K@30fps, 1080P @30fps, 1080P @60fps. The front 16MP camera supports 1080P/720P@30fps.
The underlying technology in the phone is a Media Tek Helio MT6779 (P90) processor and an IMG 9XM-HP8 970MHz GPU with 8GB RAM and 128GB ROM. A microSD card can be inserted into the SIM drawer if more memory is needed. It runs on Oppo's ColorOS 6.1 operating system which is based on Android 9.
Alongside the 3.5mm phone connection on the lower edge of the phone is the USB type C connector. Very usefully the phone incorporates VOOC which is an Oppo patented low voltage, fast charging technology that is claimed to reach four times the charging rate of conventional charging technology (5V/1A) so that its 4000mAh battery can be 50% charged in 30 minutes. While I cannot verify that when I first put the new phone on charge, using the provided mains charger, it showed 45% and then, just a few minutes later, it had reached 55%. It must be noted that, to get this fast charge, it is necessary to use the Oppo- supplied charger.
In addition to using a 6-digit passcode, there is the option of using fingerprint or facial recognition to unlock the phone. The fingerprint sensor is a small area on the screen so that, once enrolled, there is an image of a fingerprint on the screen which one just has to touch in order to bring the phone to life. I tried facial recognition and found it quite effective and easy to use. However, after a short while I disabled it as it seemed to be switching the phone on anytime it saw my face so I reverted to using the fingerprint sensor.
In the short while that I have had the Reno 2Z (it was only launched on Wednesday 16th October) I have not taken any video shots but have been impressed by the way its AI identifies image content. With the phone pointed at my monitor the word "Text" came up on screen and similarly it identified "Portrait" and "Group" on TV. However, when it came to take actual photos I was pleased with outdoor scenes – especially with shots taken at dusk when its HDR (High Dynamic Range) came in useful as well as its ability to handle low-light situations. At the other end of the scale I found that it was able to focus on close-up with the object less than 3 inches from the lens.
The Reno2 Z is available in Luminous Black and Sky White with and has been launched with its RRP starting at £329. In addition to all the features that we have come to expect in today's smartphones, at this price it can be expected to attract many users who want to take advantage of the wide range of photographic features that it offers.