Olympus LS-P4 Recorder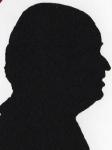 The latest in a range of small pocket recorders not just for voice but also with the quality to handle music with the special crossed microphones that Olympus brought in a few years ago. It comes able to use either Ni-Cad or Alkaline battery.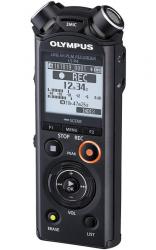 click image to enlarge
The Olympus LS-P4 Audio Recorder measures 11x3.7x1.4cm and weighs 72 grams.
The face has a 2.7x2.2cm black on grey display. Below this three bar buttons and then two round buttons Stop and Record. Next is the ubiquitous five position joystick control and finally near the bottom of the front two further well marked buttons.
The reason I have only mentioned Record and Stop by name is simply they are all you need to know about to make recordings.
The right side has two 3.5mm sockets for headphones and external microphone. The left side a slider switch down for on/off and up to hold important if the unit is in a pocket and the possibility of turning off accidentally is avoided. Below this is the push out USB connection.
The back has a tripod screw allowing it to give extra quality to video shot by cameras and also the entry point for the 'AAA' battery. The top has the microphones going at 45 degree angles with the space in the centre filled by the bass microphone.
By default when you switch on the Home screen is backlit for a few seconds showing Music, Voice and Calendar icons. Here is possibly the only point one could go wrong if you think that Music is a record option it is not, only a replay option for files you may have copied for your listening pleasure.
By default any recording is stored in one of five folders A to E by default they will go to folder A.
There is a Basic Manual in 24 languages with the first ten in English and this for most will be all you need to get a basic recording. There are plenty of options and choices but someone with little knowledge can insert the provided battery and switch on a press record to put the unit in standby and then press record again when you want to start recording and then only press stop to end the recording, it will be perfectly acceptable.
For those needing to edit recorded data there is an option to download a WaveLab LE9 from Steinberg, an access code is provided.
Delving into the menus allows you to select method of recording PCM, FLAC or MP3 and each has various levels available. Another feature allows you to zoom the mics in to cover a more limited area which is great for noisy environments. The unit has 8GB of internal memory but you can also record to Micro SD Card should you wish. Should you wish you can also connect to a Bluetooth device.
For me getting good clear sound quality is important and I also tested it with music as well as speech both were fine.
This is a small easy to use device so no real knowledge is required but should you have one of a range of Olympus cameras you can link it to your Olympus camera to boost the sound quality of your videos.
The Olympus LS-P4 is available from Amazon for £189 including free delivery. Full details can be found on the Olympus web site.