Netgear's SOHO Gigabit switches

When all the router's Ethernet ports are full, Netgear's SOHO Gigabit Ethernet switches provide a means of connecting more devices to one's LAN. In addition they can often make the house a tidier place by cutting down on the number of long cables needed around the network.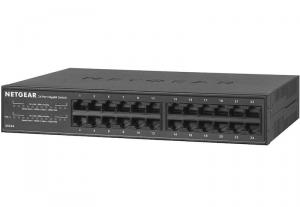 click image to enlarge
The Netgear SOHO Small Office Home Office) range goes from a 5-port Fast (10/100Mbps) through to a 24-port Gigabit (10/100/1,000Mbps) all of which have a claimed MTBF well in excess of half-million hours . This is a better level of reliability than one can expect from PCs or printers etc. The unit that I have reviewed is the GS324 24-port Gigabit unit which, obviously, has far greater capacity than is wanted by the majority of users most of whom will find that the GS308 8-port gigabit unit will suit their needs unless, of course, they have quite a number of security cameras. In fact, where a number of cameras are in use in relatively close proximity in one part of a building, they could all be connected via one switch.
These units are all in robust metal cases with a dark crackle finish and are designed so that they can be desktop or wall mounted with, the case of the GS324, brackets being provided for rack mounting. The power inputs are on the rear and all their Ethernet connections on the front panel. While the GS324 has a built-in fan-less power unit, all the other units in the range are supplied with an external power "brick". They do not have On/Off switches which if operated by mistake would take out a large number of users.
With the GS324 there are two rows of twelve ports with each port numbered. To the left of the ports is the status panel where, in addition to the power LED, there are the two rows of LEDs. They are numbered so that they can be easily interrelated with the actual ports. The LEDs show green for gigabit connections or yellow for 100/10Mbps. Activity on any port is indicated by its number blinking. The other units in the range all have their ports arranged in a single row and provide similar information.
Connecting the unit could not be simpler. It was just a matter of connecting the mains and then plugging in the Ethernet cables. As the switches have auto-sensing ports, one does not have to use specific ports nor does one need to use crossover cables. In fact, overall, it is just plug-and-play.
These units are not particularly large with the 24-port GS324Gigabit switches being roughly 25 x 18 x 5cm. Hence, not only do they not take up a lot of space they are not particularly obtrusive despite the dark crackle finish. With prices ranging, on Amazon, from about £16 for the 5-port GS305 through to about £74 for the 24-port GS324 a user can pick the one that best suits their needs even though, at the smaller end, the 8-port GS308 at just under £20 on Amazon merits serious consideration. (Even though the Fast Ethernet units are slightly cheaper than these Gigabit units, they are really a false economy as the trend is towards Gigabit.)