NSA UK Rechargeable Column Fan TFRDC-50RC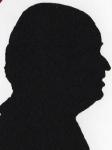 Often things arrive at totally the wrong time of year, sometimes however they arrive exactly when you can get the best from an item, here one of the latter category a column fan during the hottest part of the year and over the next few weeks it got lots of use in both my office, lounge and bedroom, in the case of the last mentioned because it was nearly silent.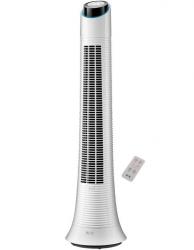 click image to enlarge
This column fan measures just over a metre tall and around a quarter of that size at the base, it weighs just under 5.4 kilos.
It can rotate 90 degrees or be used in a static position.
It is ribbed all the way up in horizontal increments and starting 27cm from the base there are 59 rows of three spaces where the air is expelled. The area they cover is slightly decreased as they near the top.
The top edge is slightly sloped and the manual controls are on this area. Just below the spaces in a small tray where if you wish you can put a couple of drops of scented oil to allow you to have an aroma.
While this is a very effective fan that has made my working and home life a lot more pleasant in the recent hot spells of weather if has extra secrets I have yet to mention, it is variable speed from a very light breeze '1' up to a veritable gale '24'.
It can also be controlled by a supplied remote control that is powered by a clock type battery also supplied.
In most cases the unit will work from the mains and a 1.7metre lead is supplied which on occasions I found a little short but you can always use an extension lead.
The main surprise is still to come; it can also be powered by an internal battery which automatically recharges as soon as you connect to mains power again.
I got five hours of use at the '12' setting which was the most I could accept without the fan disrupting papers all over the office. I also got close to nine and a half hours at '6' in my bedroom and at this setting it was virtually silent but still kept me cool lying on top of the bed during the hottest weather.
At the '6' setting the fan was still powerful enough to turn the pages of a magazine at around 1.2metres away.
Should you want to it is possible to set the fan to come on at a certain time in advance.
To say I like this fan is an understatement, to say I enjoyed my review period is also true, the real joy was that it enabled me to work on days when all I would otherwise be able to do was walk around sweating and drinking lots of cold drinks as when you are too hot you can't concentrate and you probably have to do the same thing at least twice to get it right.
While I did not try the 'aroma' box I can see that some would enjoy the scents especially if they have a sweaty partner nearby.
An ordinary desk fan with rotating blades just moves the air around and probably always requires everything to be weighted down, having the choice of speeds is a nice plus, having a remote control is also a nice touch but for me being able to use it when there is no power it could even be considered a life saver.
The NSA UK Rechargeable Column Fan TFRDC-50RC is available from the link below for £165.
https://www.nsauk.com/product/nsauk-rechargeable-column-fan/