Mood Book Light Lamp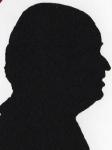 A black leather book with creamy white pages looks very innocent until you open it, red, blue, green, purple and white light emerges in sequence from the pages, yes not a book at all but a light powered by three 'AAA' down the spine.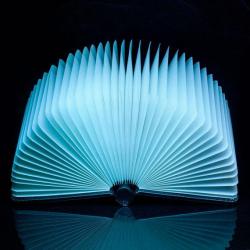 click image to enlarge
This mood light measures 16x13.5x2cm and weighs 270 grams.
Anyone opening this not so little black book is certainly in for a surprise it is held shut by magnets and you need to exert a good force to open it at all. At first I thought there must be some tape holding it shut but no it's just its magnets.
So no addresses, phone numbers or emails of past or present lovers or friends just a light so here the black book has a new twist.
Another joy - for me anyway – no health and safety booklet, in fact just a removable sticker on the rear of the book saying FIZZ Creations and then an image of the book showing a removed twist screw from the spine and three 'AAA' batteries showing they need to be inserted with the positive '+' upwards.
If you look carefully down the spine when it's open you can see a line of LEDs either side that produce the light.
The back of the cardboard outer of the box gives a little more detail and does include a passing glance to health and safety by saying 'this is not a toy'.
The book (light) can be used in one of three ways open to 180 degrees giving enough light equal to most desk top lamps. Open to 360 degrees where the maximum amount of light is displayed. Perhaps the most ingenious is at 270 degrees on the corner of a metal surface where its magnets hold it in place.
While the multiple light colours – it changes sequentially on each opening – are different I certainly used it as a working light in white mode. It would have been nice to be able to lock in a single colour mode rather than having to partially open it four times to revert to the colour you last closed it in.
It does give a good light but surely it is something to start a conversation and perhaps even this is a rather niche subject as someone sneaking a look at the contents is hardly going to admit it if not caught in the process. Of course the owner will know you have looked unless they open it multiple times as the opening colour will be wrong.
It looks good and can provide a strong white light good enough to read by.
The Mood Book Light Lamp is available from the link below for £20.