Earbuds and Solar Charger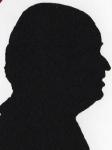 Firstly a set of earbuds from probably the biggest name in Reggae, Bob Marley who has a whole range of audio products in his name. Second an item that arrived without request or documentation but something that might be of use when away from electrical power a Solar Charger.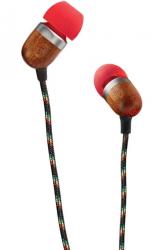 click image to enlarge
Marley Smile Jamaica Earbuds
Bob Marley a huge name in pop was always very distinctive and so are his earbuds with their bright colour cords and red and green earbuds but for most what matters is the sound and not the look so what do these earbuds offer.
A 1.5metre long from the wood backed earbuds to the L shaped 3.5mm adapter. 15cm down from the left earbud is the 2cm long control and then another 15cm to the connection where the too cords become one for their 1.2metre journey to the L shaped 3.5mm plug.
Most earbud sets have three sets of silicon buds these have the large size fitted and a small size in the box.
They should work with any recent phone and even MP3 players. I mention the latter as that is where I store a set of files containing a vast range of music and speech files covering the whole Genre. The speech files are useful as high pitched voices require a whole different sound receiver to low ones.
My own musical choice is rather different to Mr Marley's as he appeals more to an age group younger than me and as expected bass is accentuated with these buds.
While the red yellow and green are intertwined with the black in the cord the fabric coating means the cord is less likely to get knotted when they are rolled up in a pocket or purse.
The Marley Smile Jamaica Earbuds are available from Amazon for £19.87.
Solar Charger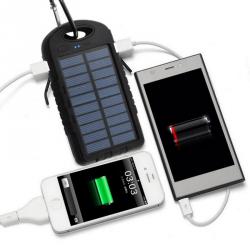 click image to enlarge
This is a model A50 but from who I do not know as it arrived in a box with two other items and it would indeed be useful to keep your mobile phone charged when on a camping or hiking trip.
The box says nothing about the manufacturer except that it is made in China.
It is stated to be 8000mAh and I can say it works as I have used it to charge more than one device.
It comes with a 28x7cm sheet of paper one side in Chinese which I cannot read and the other in English which although it is small type I can read.
It should be more or less waterproof or at least shower proof as the USB connections are both behind rubber bungs. There is a 50cm USB to micro USB cable in the box.
The rear of the unit is virtually a solar charge panel with a small push button above the panel and this lights up to five blue LEDs to show the charge state. Above this is a 3x1.5cmk oval hole to allow you to clip it to a rucksack so it can charge while you walk.
Normally at this point I give a link to the price and somewhere you can buy it, I entered Solar Charger A50 into the Amazon search and it came up with something that looks identical so I assume that it's available for £15.55.