Marley On Ear Headphones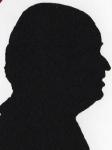 Bob Marley is the name most think of when someone says Marley and I understand there is a connection to these headphones if only in the garish colours that some of the items in the range of headphones have in their colour choices.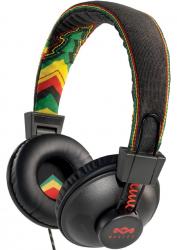 click image to enlarge
This is a sober set of small on ear headphones. Sober was used as the colouration of two tone grey with a black and white striped cord is very sober in comparison to some of the headphones bearing his name.
I have an average sized adult head and I was perfectly happy with these on zero expansion so they may be a little big for a child or small adult. There is a total of 3cm of expansion on either side.
From a position in the centre of the base of the earpieces to the top of the headband is 18cm in the no expansion way I used them.
A 25cm piece of untreated string ties the cord together far more ecologically sound than a plastic coated wire tie used by most units today.
The 1.25metre long hard wired lead goes to a gold plated 'L' shaped 3.5mm connection. The lead has a single button on a small connected box 15cm from the base of the left earpiece.
My unit had only the headphones and hard wired lead in the box but it had been resealed by the agency so the almost obligatory safety instruction booklet could have been lost.
A few minutes of fiddling with the button on the box control can work out what it does but I have no doubt that a sealed box would have correct instructions on a sheet of paper. The box outer does tell you that there is a pin hole microphone imbedded in the single button control.
The rear of the brown cardboard outer – ecological – has five statements in a choice of five languages:
Comfortable Ear Cushions.
Precision Milled Aluminium.
50mm High Precision Speaker
Tangle-Free Durable Fabric Cable.
Integrated Microphone with One-Button Remote.
As always I tested these headphone with not only a SmartPhone which is what most will connect them to but also my audio system for better quality audio than most will input into their SmartPhones and finally a trusted MP3 player that I keep just for my reviews of headphones and earbuds. This has a range of music including things I dislike like Opera and Pop Music as well as Classical that I can tolerate and my own favourite Genre of Jazz.
I test all these as well as spoken word by both male and female voice to test the range.
For my liking there was a little too much bass but a lot of people like a heavy bass beat and this can accommodate their preference but the clue is in the name 'Positive Vibration'.
A lot of the tunes of my choice sounded bass heavy which I know they are not with other headphones but then these are not aimed at my generation.
The Marley Satisfy Your Soul Positive Vibration Headphones Pulse are available from Amazon for £54.61 with free delivery.