Bookshelf Speakers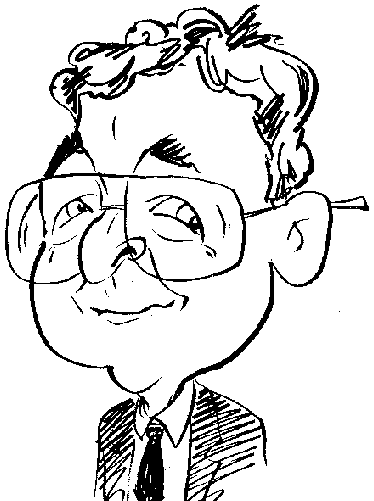 Review controls
While not a familiar brand to me, the Kurbis is a German speaker system.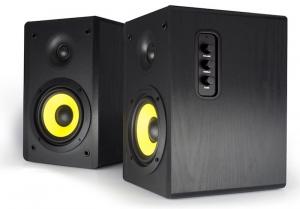 click image to enlarge
The Kurbis is a Bluetooth Bookshelf speaker system that forms part of the Thonets & Vander's catalogue of audio products. For those not familiar with the company, Thonets & Vender is a German organisation originally founded, in Berlin, during the middle of the last century, by Hannes Josef Einrich using his telecommunication experience gained during the Second World War. Following periods when the company initially concentrated on producing hand-made devices, before moving on to factory production, the company has built up a reputation as one of the most recognised multinationals in the field of audio. The company has now set up offices in Frankfurt, US and Latin America.
The Kurbis system, which is the subject of this review, consists of two sturdy speaker units, various leads and a slim Operation Manual booklet. Central to the system and the delivery of audio output are the two speaker units. Decked out entirely in black, these wooden speakers with a removable front cloth covered front panel, consists of the usual active and passive speaker pairing of output devices.
Following the standard pattern, the greater majority of this speaker system controls are located on the active speaker. Decorating the rear of the active unit are connection options for RCA jack sockets, power lead and on/off switch plus quick release speaker linking. Appropriate leads are provided for these various functions. There is also a socket for use with a 3.5 mm jack lead for connecting to a device that does not support Bluetooth or RCA connectivity. You will need to supply the necessary lead as there was not one included with this package. I am not sure whether this lead omission was an accident or part of the company's standard practice.
Arranged on the right side of the active speaker are controls for adjusting Volume, Treble and Bass levels. These knob style controls are easily adjustable but do require your presence as the kit does not include a remote control unit.
Unlike the active speaker. the passive unit makes do with a pair of colour coded quick release connections. This facility is for linking the two speakers using the supplied 190 cm lead.
Setting up this audio system is a simple matter as you attach the linking cable using the quick release connections and supplied lead. You can then add a power lead and an audio output with a choice of Bluetooth, audio or RCA type lead. You can then sit back and enjoy the audio output delivered by the 340 WATTS of power from the integrated amp with balanced frequency. The delivered audio is handled by the built-in 5.25-inch Woofer and 1-inch silk tweeters using a Bass Reflex resonance system.
I was generally impressed with the audio quality with this speaker system apart from those foolish moments when I streamed audio from a Bluetooth source and a second source using an audio lead simultaneously. While you could hear both sources, it was not really enjoyable but, I suppose, it could prove useful as a means to get rid of unwelcome guests.
As I was suffering from a bout of back problems during the review process,. I was disappointed that a remote control was not part of the product as it would have allowed me to make adjustments and switch between sources from the comfort of an armchair. The Kurbis Bluetooth Bookshelf Studio Monitors is available from Amazon priced at £149.99.
Product specifications

| | |
| --- | --- |
| Weight | 19.65lbs |
| Transmission distance | Extended 65ft – 100ft |
| Dimensions | 20.35 × 10.74 × 13.38 in |
| Peak power | 340 |
| Tweeter size | 1" |
| Power output | 68W RMS |
| Tweeter material | Silk |
| Power per channel | 34 + 34 |
| Tweeter impedance / PowerR | 4Ω 20W |
| Frequency response | 55Hz – 20 kHz |
| subwoofer size | 5.25" |
| Distortion | 0.1% – 1W |
| Subwoofer material | Glass – Aramid Fibre |
| Signal/Noise | 65dB, +4dBu |
| Acoustic box material | HDAAª Wooden box |
| Separation | -40dB |
| Acoustic box dimensions | 10.9 x 7.2 x 8.7 in |
| Bluetooth | 4.0 |
| Colour | Black |
https://thonet-vanderspeakers.com/thvstores/product/kurbis-bt