Joby & iKlips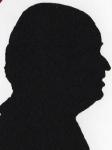 Both items in their own way hold things, the first could be a camera or phone and then you could wrap it round something. The second holds data and allows you to transfer it either to anything with a lightning connector on one end and a standard USB on the other.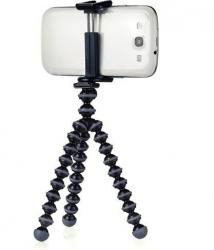 click image to enlarge
Joby
I certainly remember reviewing other Joby items in the past with their ability to twist round any object to hold your camera securely via the standard screw. On this it works slightly differently the camera screw is still there but now it has a frame attached so that your SmartPhone can be held securely on the fence, lamppost or railing while you take your shots. In a way it becomes a long distance Selfie Stick.
As stated you can still remove the frame to reveal the original screw which means those who still use a standard camera are not forgotten. So with the frame its one device and without it another.
In total it is 17cm tall, the leg splay can be up to around 20cm between any two, this means you can balance on uneven ground. From the Tripod screw there are two spheres down before the three legs each of ten spheres start. These can be twisted to almost any shape.
As a keen photographer I tend to take short videos to test the many digital cameras I test and a small tripod like this can be used both to place the camera and even when handheld as it allows you to increase height while still keeping your arm in a comfortable position.
Joby do a range of devices and the one I have here is described as for 'smaller phones'.
The Joby GripTight GorillaPod Stand for smaller phones is available from the link below for £13.50 with free delivery.
http://www.amazon.co.uk/gp/product/B009GHYMB6?ie=UTF8&tag=gadge0a-21&linkCode=as2&camp=1634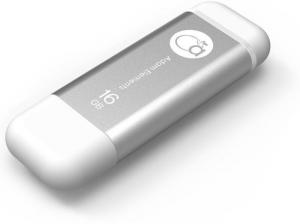 click image to enlarge
iKlips
This is a 32GB USB3 (works fine with USB2) drive and when inserted 5cm is exposed. However it is also a 32GB Lightning drive by just turning it round and removing the other rubber end cap. So for users of both Windows and iOS devices this is a useful product to transport items between the two operating systems.
However it is also stated to be a multi format photo viewer. It can also stream movies direct from itself.
The full dimensions and weight of the unit with both end caps in place are 6.5x2.2x1cm and it weights 17grams.
I copied 18.3GB of files 2640 in total from a Windows 7 PC to it (using USB2) in 19 mins and I then copied the same files from it to a Windows 10 PC in 8 mins this was via USB3.
The back of this device has a good strong clip metal which allows it to be held securely in any pocket. It also comes with a drawstring pouch if you would rather transport it in that manner.
The iKlips 32GB flash drive is available from the link below for £58 with free delivery.
http://www.amazon.co.uk/gp/product/B014A31O2U?ie=UTF8&tag=gadge0a-21&linkCode=as2&camp=1634