Honor 20 Lite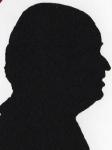 If you want a SmartPhone that can offer almost everything that the latest super offerings can do but at a lower price then this unit from Honor may well tick all the boxes. A lot of recent phones are sold on the cameras capabilities and this one has AI built in.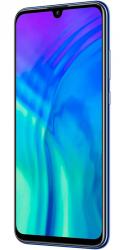 click image to enlarge
The Honor 20 Lite measures 15.3x7.2x.7cm and weighs 165grams while the viewable screen is 14.3x6.6cm and that gives the notional diagonal imperial measurement of just over 6.2inches. The pixel resolution is 2340x1080 but you can lower this in settings to 1560x720 if you need to save battery.
Talking about battery the 3440mAh battery should last well into the second day even for a heavy user, it supports 10w fast charging.
It comes with 128GB memory and a Micro SD card slot that supports up to 1TB of additional memory.
4GB Ram and an Octa Core Kirin 710 processor and it runs Android 9.
Going around the unit has volume rocker and then the on/off button on the right side. The base has its speaker, micro USB socket which is for charging and it also supports OTG devices. Next is a pin hole microphone and finally a 3.5mm socket for headphones. The left side is clear. The top has the SIM and micro USB entry point.
The back has a line of three cameras and then the LED flash these are 1cm down from the top and 1cm in from the side, in the centre 3cm down from the top is the finger print reader. This unit can also be unlocked using facial recognition.
The cameras on the back are 24MP f/1.8, 8MP ultra-wide 8MP f/2.2 and 2MP f/2.4 for depth. It takes excellent still images both in auto mode and the various specialist settings. Videos were also rather good with a one minute video taking around 80MB of space @30FPS (60FPS also available).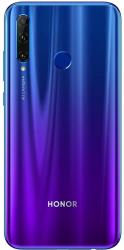 click image to enlarge
The Selfie front camera is 32MP f/2 and can also take video @30FPS.
Sound from the built in speaker is quite acceptable and even better with a decent set of headphones.
NFC, Bluetooth 4.2 and Wi/Fi 802.11 b/g/n are all supported; it also has sensors for accelerometer, proximity and compass.
It is available in three colours dependant on where purchased at around £250.
I liked the feel of the unit in the hand and unlike some unit it balanced well, easy to read the screen except with very strong sunlight on it.
Having the selfie camera notch as part of the screen will be a plus for some, I find I do not notice it but I know of many people who hate it so it's there but after a few hours of use I was having to look to notice it.
The plastic back with colour shifting from blue to purple – on my unit – was not that alluring to me and the face of the unit did – like so many – show finger marks but remember this is a phone a third the price of top range offerings.
At the time of writing the Honor 20 Lite is available for £219.95 from Amazon with a £10 top-up voucher.