Hive View Outdoor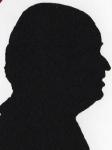 I do not watch much live TV on commercial channels but two adverts stick in the mind, the first one for a remote doorbell and the second where a lady has a range of garden ornaments and once one was stolen she installed one of these Hive cameras and now tells the thief – when he returns – to get out of her garden.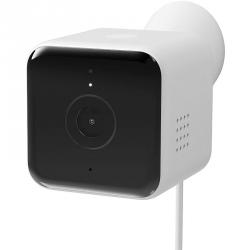 click image to enlarge
Unlike a lot of small external cameras this does not run on batteries so it requires the supplied USB lead to be connected. The lead supplied is 7.5 metres long so should be able to reach a mains outlet in most homes without problem but of course it does mean drilling a hole through a wall, a door, or a window frame to use it.
The camera is a 6cm cube with a 4cm magnetic fitment that attaches to its rear; just below this is where the supplied 7.5metre micro USB to USB lead attaches. The speaker is on the right side. Also supplied is a 13amp USB plug front.
Like most devices this is Wi-Fi but it requires a Hive Hub 360 – sold separately to connect the camera to your Wi-Fi and indeed to your mobile phone.
Also like most recent 'security cameras' it is controlled by an iOS or Android App.
The hub is 13cm tall and round at 8cm across. It comes with a 2metre flat micro USB to USB lead which plugs into the underneath of the hub. The hub has two USB ports on the side near the base but they are for updating only and should not be used to charge other devices you are warned in the small but readable 16 page 10x9.5cm User Guide. It might be a better idea to place a sticker over those to prevent inadvertent usage.
Unlike other such hubs that then connect via Ethernet to your router this does not do so and the hub stores data in the case of Internet going down.
One thing immediately springs to my mind as the camera is only secured by a magnet it is vulnerable to being stolen of course you would know who did so as they approached the unit.
Another point being mains powered you are in trouble if there is a power cut.
Setting up the App is not difficult and you know immediately when someone approaches via the App.
There is also two way audio communications with the person who comes into view which is great if you have been waiting for a courier but had to pop out so you could give instructions like leave with my neighbour or bring back tomorrow.
The App gives a log of all callers and the time they did so these can be sound and or vision. It is possible to integrate a barking dog response.
Any App can trigger false responses so it is best to set up zones to eliminate trees and bushes and if you get a lot of wildlife areas near the ground so cats or foxes don't trigger an alert. Also think about the placement as a bright sun shining on the camera can play havoc, so spend a little time thinking before placing the camera.
Amazon stocks a range of Hive products including the Hive Hub 360, for £84, and the Hive View Outdoor Camera for £139.97. More information about the Hive outdoor range can be found on the Hive website.