Some Haunting Mysteries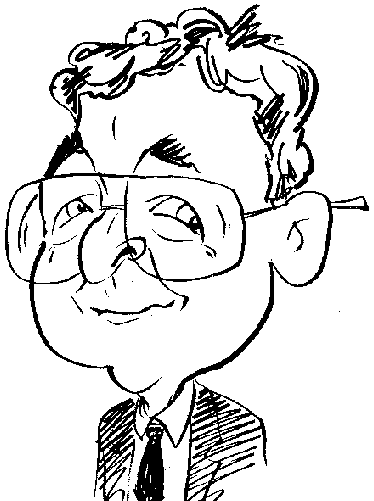 Review controls
Step into worlds with more than their fair share of ghostly figures as you are required to solve mysteries.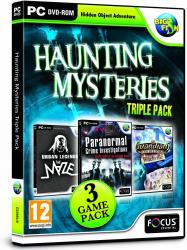 click image to enlarge
Joining the ranks of three-pack games is Haunting Mysteries. This triple pack of titles is made up of Urban Legends - The Maze, Paranormal Crime Investigations - Brotherhood of the Crescent Snake and Guardians of Beyond - Witchville. All three titles belong to the Hidden Object Adventure genre and offer you the choice of creating profiles, adjusting the volume levels for background music and sound effects plus viewing the games in full screen mode.
Urban Legend - The Maze
The Maze concerns a game developed for television. People compete to be the first to finish various tasks. Unfortunately with the latest episode of the show comes to a sudden end when all the contestants disappear. You have been hired to find out what happened to them by undergoing the same trials and tasks faced by the missing contestants.
Set in a variety of locations, The Maze offers the player a number of useful tools. Arranged from left to right are a Journal, recordings your findings and displaying a map of available locations, an inventory of items collected plus a rechargeable Hint feature. The mouse cursor will change shape to indicate when possible actions are available while an outbreak of sparkles means a Hidden Object scene is available.
The game requires plenty of moving around the various locations. In most cases the Map can help by transferring you between locations. Hidden Object game follows the standard format of combining a cluttered scene with a text list of twelve items that need to be located. You will be rewarded at the conclusion of the scene with one of the discovered items.
Puzzles, presented in the form of tasks, are used to interrupt your progress at various stages of the game. You could be asked to rearrange wires to make appropriate connections to turn on lights. Different shapes might need to be arranged so they fit together within a limited space. Another task might involve pressing levers in the correct order to activate a process.
Paranormal Crime Investigations - Brotherhood of the Crescent Snake
Set in New Orleans during the period known as Mardi Gras, a number of murders have been discovered. This is the less than friendly opening to this title concerning the Brotherhood of the Crescent Snake. As its title might indicate, this game places you in the role of a crime investigator who specialises in paranormal incidents and you are asked to solve the mystery of these murders.
Aiding you in your investigation are certain tools running across the bottom of the screen. Taking up a central position is an inventory holding the items you have collected. To the right of the inventory is your PCI Field kit which can be used to examine clues by carrying out tests. The kit can analyse any item found that emits a glint effect. This analysis involves matching pairs of moving objects. A rechargeable Hint feature sits on the left. Further assistance is provided by the mouse cursor which changes shape to indicate active areas while an outbreak of sparkles identify a Hidden Object scene.
In this contest of good against evil, you will be faced by barriers which block your progress until they have been removed. This task could require repairing damaged memorials and removing items to clear symbols. Your attention could be distracted by the appearance of ghostly, shadowy figures which have glowing eyes.
Appearing at intervals throughout the game are Hidden Object scenes. These combine a cluttered scenes with a text list of twelve items that need to be located. Most of the entries will be coloured white with an occasional item being coloured green. The green item will require an additional action before being selected.
Guardian of Beyond - Witchville
Developed by VOGAT Interactive, Witchville casts you in the role of Alice, a psychic, who spends much of her time interviewing witnesses that are dead. You receive a call for help from a friend Ethan. This character is in Witchville where people have started to disappear. On arriving in Witchville you discover that Ethan has fallen victim to the disappearing syndrome where people become ghosts and your adventure begins.
The usual selection of tools is provided and displayed along the bottom of the screen to assist you. These tools consist of Notes, recording your progress, an inventory and the rechargeable Hint feature. When items in the inventory are wobbly it means they can be combined. Unlike other Hint features I have encountered, the one in this game often tells you a series of actions that need to be completed next rather than a single action.
As your mouse cursor moves around the various scenes, it will change shape to indicate when different actions can be performed. Sparkles will appear to inform you that a Hidden Object scene needs to be tackled. These instances will combine a cluttered scene with a text list of twelve items to be located. Entries in the list coloured green, rather than black, will require an additional action prior to being selected.
While the game does not have its own Map feature, this should not interfere with enjoyment of playing this title. The game is based on the revenge taken by a Witch named Vesta as repayment for the burning of three witches many years ago. Hopefully Dr. Light will be able to help you stop the Witch.
Although of the same genre, these three titles offer different challenges. I found Witchville to be the most enjoyable of the three titles with Brotherhood of the Crescent Snake being the most challenging. The Maze fits snugly between the other two. System requirements call for a 2.0 GHz processor with 1024MB of RAM and 2.1GB of hard disk space running Windows XP and later. Currently this three-pack offering is available on Amazon priced at £6.83.