Hannspree Watch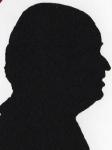 While there is a lot of hype about watches that work with phones, and one company – a fruit – make you feel naked if your wrist does not sprout one, here a similar offering from a company that comes from the panel display sector.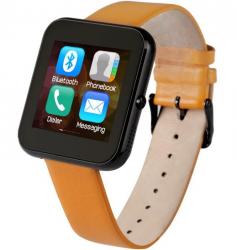 click image to enlarge
The watch itself is 4.5x4x.75cm, attached to is a fitted strap, on the back are four contacts which mean that to charge the watch via a standard micro USB to USB you need a cradle for the watch to fit into, both the cradle and lead are supplied.
There is an eight language Quick Start Guide and two of the eight columns – half of one side – have the illustrations and English instructions.
You will need a QR code scanner as the Android App anyway does not come from the Android Play Store. As I never tested the iOS version I do not know where that takes you to.
The viewable screen is just under 3x3cm and this shows four functions at a time. Strangely it comes with seventeen meaning one screen has just one function. You move from screen to screen by swiping with a finger, a tap on a function takes you into that section.
I was somewhat surprised that once charged you had to set the time and date manually from the Settings menu rather than it being set when your first Bluetooth Sync is conducted.
I found that it needed charging every two days maybe three at a push it you use it little but two days to be safe. As with a lot of recent devices it gets unhappy if it moves out of Bluetooth range of your SmartPhone and vibrates, still at least it stops you leaving your phone in the restaurant.
Low power Bluetooth can be turned off but then a lot of the features that you purchased this watch for will not function.
So assuming you have power in the watch and your SmartPhone (Android 4.3 or later) you can make and receive calls from your wrist, view SMS messages, Play and control music and quite a bit more.
By default the first screen from the one button at 3PM on the watch face is the digital watch and then you swipe to get to the seventeen functions on the five screens. It is possible to get the watch to display an analogue watch rather than digital. The one lonely one is perhaps set apart for a reason as it's the Sleep Tracker.
A few facts it is a 1.54inch touch screen that has 240x240 display resolution and it is a Capacitive display with Tempered Glass.
I mentioned the Sleep Tracker it is also a Pedometer (counts your steps) and tells you how many calories your burn during your exercise. The one thing I found missing was a heart rate monitor.
Some of the other features are a Barometer, Thermometer and Altimeter the last mentioned actually tells your height from a set point.
It is stated to be the thinnest SmartWatch at 8.8mm and it weighs 45.5grams with strap. I understand that those of you with iOS devices it will need v7 or later.
As I have a number of medical conditions I have long worn a watch that warns me of problems by vibrating and showing LEDs so this will not be for me. But being able to answer and make calls from your wrist will be or interest to some.
The Hannspree Legend Smartwatch is available from the link below for £64.98 with free delivery.
http://www.ebuyer.com/723439-hannspree-legend-32mb-smartwatch-black-orange-hsg1334-sw1dsz1427d01