Handheld Shiatsu Massager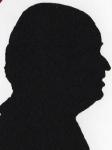 The range of Christmas In July events are always hard work with often five of six events to cover in day. One thought my aching back, legs, shoulders and everything else looks forward to is trying the latest items from Homedics.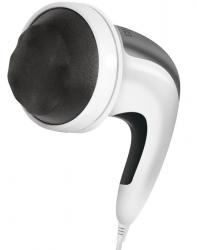 click image to enlarge
I have previously reviewed similar smaller items but they were all battery powered which made them lighter but naturally that meant with less power to delve quite as deeply into the problem areas.
This unit comes with a 2.2metre mains lead that is hardwired into the base of the handle.
The converse of the battery problems is that this has more weight and depending on what your problem is the 900gram weight of the unit might be a problem for some when treating say the back of a shoulder which means the other hand is extended and rotated.
It comes with three different heads and each needs you to remove the soft mesh cover and then either attach the least intrusive three raised semi-circular lines which protrude by around 4mm from the base, this gives a rather relaxing massage to an inflamed area.
The slightly more intrusive head has a rounded '#' pattern raised from the disc which gets a little deeper and perhaps – dependant on the injury – could be used in shorter doses.
Finally eight larger 1.5cm across and close to 1cm deep pimples that will really get your voice active as these really hit the spot.
All these heads should only be used under the soft mesh cover which twists on to lessen the violence to your body and the two sides of A5 Instruction Manual emphasises this.
Each of the heads is circular at 7cm across and the heads fit on a 10cm across area and the mesh cover is on top of that.
This means that even using just an edge to get into a recessed area can be difficult.
The head and motor area go back 13cm before the arm drops down – another 13cm – to the point where the mains lead emerges.
On the outside of this 'grip' area are four controls in a line on/off, power/speed up, power/speed down and finally an Auto mode that turns the unit off after a set period.
There are still going to be some areas that require a friend/partner/husband/wife to get to the area behind the shoulders being one such place.
I have used it on myself in several areas that give me troubles from time to time.
Certainly a great deal cheaper than going to a Physio but as always you experiment on yourself at your own risk, any problem that does not start to respond you should visit a professional as you might be doing more harm than good.
Certainly the front and legs are easy to get at, parts of the back and shoulders are harder and the weight of the machine may make one the battery operated units easy to get to but of course they do not have the grunt to delve deeper into the body tissue.
It would have been nice to have an additional smaller head even if it increased the overall length as 10cm across does not get into tight places.
The Homedics Handheld Shiatsu Massager is available from Amazon for £79.99 with free delivery.