HP Gaming Notebook Omen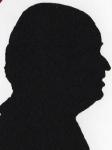 A very powerful gaming notebook from HP with a screen resolution that I have only previously seen on very large monitors 3840x2160, lots of memory and the latest Intel i7 processor and just for good measure Bang & Olufsen speakers.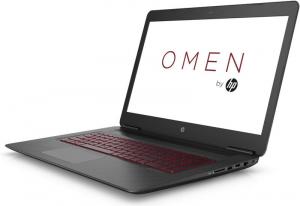 click image to enlarge
It is 38x25.5x2.5cm and weighs 2.163kilos.
There are two distinct rubber strips underneath to help remove heat away from the base of the unit.
The colour is dark grey rather than black which helps to avoid showing fingermarks.
The viewable screen is 36x19.5cm and the notional diagonal imperial measurement is 15.6inches. There are a total of 27 different supported screen resolution from 800x600 at one end up to 3840x2160. Windows can be manipulated to make the 3840x2160 look almost normal by displaying at 250% once initial configuration is completed but beware of trying to set things up initially especially with say the 25GB of Dropbox allowance you get as a perk when that appears as a window within a window where you need rather good eyesight to set it up.
Talking of setup there is a large sheet explaining what various function keys do and one you will need to know is FN ALT F5 to turn the keyboard backlight on as it has dark red on black keys which unless you have strong external lighting are very hard to read, this may or may not be an advantage for the gamer.
The keyboard has 102 keys with the alpha and numeric keys being full size. There is a 4.5cm strip behind the keyboard that has the rather good speakers and the on/off button.
Booting up was an amazing 9.5seconds and shutdown less than 3 seconds. Both of course are excellent figures.
There is a 2cm strip either side of the keyboard and a full 10cm clear in front of the keyboard.
The 12x6.5cm trackpad is mounted 9.5cm from the left and 16.5cm from the right so very good wrist support.
So the Intel i7 processor runs at 2.6GHz. There is 16GB of RAM and it has 64 bit Windows 10 installed. For those wanting gaming performance there is also an NVIDIA® GeForce® GTX 965M (4 GB GDDR5 dedicated) chip on the motherboard.
The 'C' drive is a 237GB SSD, there is a 'D' drive of 919GB and also a recovery partition 'E' of 12.5GB.
Going around the unit the left side has two USB ports and a 3.5mm socket for headphones. The front is clear. The right side has a SD Card port, a USB port, HDMI out and an Ethernet port before the DC input socket. The rear is also clear as the lid goes down to around 150 degrees.
There are various HP Apps available as well as the 25GB Dropbox offer already mentioned.
I used this almost exclusively on battery and the 5 hours stated when you have a full battery was not far off the mark considering I spent a great of time online via Wi-Fi.
A very rapid machine which of course is what the gamer demands and having Ethernet built in avoids the possible vagaries of Wi-Fi when speed is life or death, I was pleased with videos I played both for image and sound quality.
Of course all this power/memory/speed has a price and getting a screen display of this size in a 15.6inch notebook.
The HP Omen is available in various configurations the HP link states £1200 including VAT.
http://www8.hp.com/uk/en/products/laptops/product-detail.html?oid=12189118#!tab=specs