Gillette Star Wars 'Rouge One'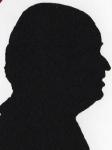 This is one of three special packs launched by Gillette to coincide with the latest Star Wars film. The razor and gel are branded 'Mach3 Turbo' so once through the hype what sort of shave does this unit give or would buying the parts separately be a better buy?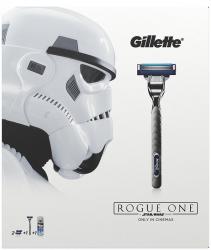 click image to enlarge
I recently heard in the 'business news' that a famous triangular chocolate bar would now have larger gaps between the chocolate triangles but we will have to pay the same price.
How does this relate to this shaving set well at a previous Gillette launch the razor came with two spare blades and a normal size container of Gel, here you get the razor and two spare blades but a smaller Gel container. When I compared the last two Gillette Gel containers in my bathroom they were 200ml and 170ml, this one is 75ml.
Onto the razor it has three shaving blades whereas the Fusion has five as well as one on the reverse for those hard to get at areas just under the nose.
The spare cartridge blades for this unit come in a container made for four of them and as stated you get two.
I suppose all the three sets will be aimed at those who love Star Wars and they would probably make a great gift for someone in this category.
I am quite happy using the Fusion unit and while I tested this the lack of two blades meant extra strokes to me and so a longer shaving time.
There was nothing wrong with the razor or the Gel but if you have driven a Bentley then a Ford seems somewhat inadequate, the same applies here having used the fusion razor and blades this offering seems to offer far less.
Most people shave in a rush so a few extra strokes mean maybe a sip or two less of the coffee or a bite less at the piece of toast before they rush out to work.
Looking at the graphics that came with the press release the other two boxes have a black box with two different faces while mine was the white box. The contents of the other boxes look different one seems to have three spare blades to what looks like a Fusion unit and in one case at least a larger gel container.
These are all very new and I can only find two of them on sale the one I was sent at £10 and one of the black boxes at £13.31. I looked for the razor as supplied to me in other packs and found it on Amazon for £5 admittedly without the two spare blades.
As supplied to me The Star Wars Rouge One pack is available at £10 the ideal gifting price for someone without spending too much, if they are a Star Wars fan so much the better.