Front and Back Camera from Thinkware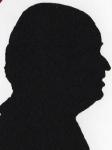 As always I start by opening the box and looking at the components before I go anywhere near a car, if I need to refer to the Quick Start Guide then for me anyway the setup is not that straightforward, here I needed to study the Guide before I worked things out.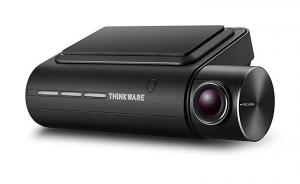 click image to enlarge
While a display is not essential this is the first such unit I have seen that does not have one, my first thought as the unit was not new when sent to me was there was a part missing, I was wrong.
It works in a different way in that a powerful sticky 6.5x3.2cm pad is attached to the side of the back of the web cam and arrived in a separate bag giving me the wrong idea.
Once clipped into place on the camera unit all became clear.
The camera itself is on the end of the unit and can be adjust through around 80degrees to suit the rake of almost any windscreen.
There are three slit LED lights to show GPS, Recording and Wi-Fi, further back on the unit is a five button joystick type control for sound, card format, on/off and Wi-Fi with the manual recording button in the centre. A 4metre long right angled cable to cigar lighter socket should be enough for almost any vehicle to connect along the top of windscreen and then routing to the cigar lighter without and flapping cables to distract.
Also supplied is a 16GB micro SD card along with a standard SD adapter and a mini USB adapter. The twelve language small Quick Start Guide has the first 15 pages in English.
The camera is 1080p with 140 degree wide viewing angle, the unit also features time lapse recording.
I was also supplied with a hardwiring cable this is 2.7 metres long and has instructions in English and French and connects to the cars fuse box rather than the cigar lighter this means that when correctly fitted will mean it remains live even when the ignition is off so when hit from in front or the front sides when in a parked position the camera will still record details of the offender.
Of course a lot of collusions are from the rear especially when in heavy traffic or in bad weather conditions, in this case having an independent witness beside you is helpful to prove you were blameless. In theory when hit from behind it is always the other persons fault but that assumes they stop and they have insurance.
So Thinkware also do a separate unit to fit into the rear window, this is 6x3x2.5cm and uses a similar sticky pad connection and in this case it is 2x1.7cm, a 7.2metre mini USB to mini USB cable is supplied so it can be linked to the front camera which has a mini USB socket beside the cigar lead/hardwiring connector. It comes with an English/French instruction sheet.
So this with the front camera – especially when hardwired – gives close to all round coverage.
The front camera is available from the first link below for £262. The rear camera is £79.99 extra.
http://www.avrmobiles.co.uk/acatalog/thinkware-f800-dash-camera.html
https://thinkwaredashcam.uk/product/thinkware-dash-cam-f800/