Freecom's Tablet Mini SSD On-The-Go

Review controls
Freecom's Tablet Mini SSD offers 128 or 256GB of external storage that can supplement the capacity of an OTG-enabled tablet or smartphone or back it up.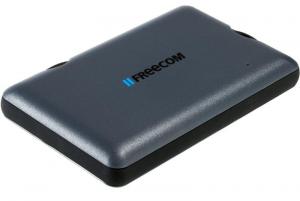 click image to enlarge
The SSD is a dark grey unit 55 x 90mm in size -- roughly the size of a business card -- and about 15mm thick. It weighs some 60g and has smoothly curved edges and corners so that it has no sharp corners and so can fit comfortably into one's hand. In fact, while it is noticeably larger than a number of other OTG (On The Go) storage devices, many will see this as an advantage as it less likely to be mislaid.
Both standard and micro USB connectors are attached to short cables that, when not in use, stow neatly within the body of the unit. The Mini SSD can be connected to one's PC or Mac via the standard USB 3.0 connector and then to a tablet or phone via the micro USB so that files loaded from one source, such as the PC, can readily be made available for the other device. Where the PC has a USB 3.0 port one can take advantage of the higher data transfer speed.
The Mini SSD is formatted FAT32, and so is compatible, out of the box, with both Windows PCs and Mac. In addition, the supplied Formatter tool (PC only) can be used to format the drive to NTFS to enable larger files to be stored. There is an option that enables the drive to be converted to NTFS without erasing the data already stored on the drive. However, it is unlikely that many Android users, using the SSD for either backup or to extend their available online storage capacity will find that 4GB limit imposed by FAT32 being a problem.
While there is no Mac backup software, Nero BackItUp basic software is provided for Windows. Once the drive is connected to a USB port on the computer the Nero program can be installed on the machine. This software is very flexible in operation so that the user can select the files and folders to be backed up, when they should be backed up, and what form the back up should take. For example, one of the options is to do a "differential" backup that saves a copy of all files that have changed in comparison to those in the last full backup. This saves both disc space and time.
The SSD also comes supplied with Green Button Software the aim of which is to reducing power consumption of the drive when it is inactive. By default this comes in after 10 minutes even though longer times can be set. In view of the fact that this is a SSD, rather than a mechanical hard drive, I cannot see that it will offer any real benefit.
The list of compatible phones and tablets on the Freecom Web site is rather limited but, as is pointed out, this does not mean that a device is not compatible but that "due to the big amount and changing generations of different devices on the market we were not able to test it." It notes that the requirements for compatibility are a USB micro USB and OTG (On The Go) support which, in fact, will encompass a very large number of Android phones.
At a list price of £89, but available on Amazon for £79, it initially appears to be relatively expensive in view of the fact that ordinary 64GB OTG USB flash drives can be found on Amazon for well under £20. However, this is balanced by the fact that it is a conveniently sized attractive looking product that comes bundled with backup and formatting software.