A Weighty System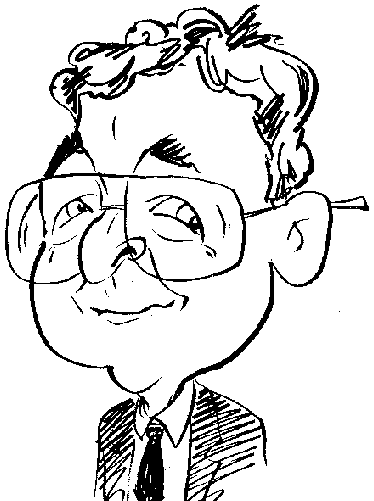 Review controls
Next in line to deliver my favourite music is the Edifier S1000DB product.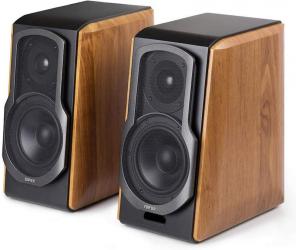 click image to enlarge
Multimedia speakers come in a variety of shapes, sizes and weights. In the case of the S1000DB product from Edifier, it was the weight of the two units that caught my attention and was a defining factor. I should have guessed from the early sight of the courier struggling with the multimedia speaker product perched on his trolley as he approached along the path to my front door. Further evidence made an appearance as I attempted to remove the speakers from the packaging without putting my rather fragile back out into pain mode.
Consisting of a passive and active unit, featuring titanium dome tweeters and rear bass reflex ports, these sturdy speakers have wooden side panels and removable decorative front grille panels. Having a wedged appearance style, each speaker rises from a base of 260 x 175 mm, through a height of 330 mm, to a top measuring 210 x 175 mm. And did I mention the speakers were heavy.
Included with this speaker system are various leads, a remote control unit and documentation that included a User Guide. By far the longest lead provided is that used to physically link the two speakers. This lead, with DINN style plugs, measures a generous 500 cm. You also get a dual RCA to dual RCA lead, measuring 164 cm, for connecting to a computer and a dual RCA to a 3.5 mm jack plug. This lead measures 162 cm and can be used for attaching to an AUX device. Completing the selection of leads is a fibre optic lead measuring 145 cm.
When linking the speakers of this multimedia system to various audio devices, connections need to be made to the active speaker. Located on the rear of the active speaker is a plate holding various controls and connection sockets. Three knobs provide volume adjustments for Master, Treble and Base, with the Master knob doubling as the source selector following a series of presses with an LED light, on the front of the active speaker, glowing Green, Blue and Red to indicate the current mode. Positioned below the knobs is an on/off power switch and the permanently attached 160 cm mains power lead. Colour coded sockets are provided for attaching the RCA type leads along with fibre optic and coaxil connections. A DINN type connection is provided for linking the active speaker to a similar connection on the passive speaker.
When setting up this two-piece multimedia speaker system, you might be tempted to go with a bookshelf location. But, due to the weight of the speakers, I would recommend a more floor-based positioning. Once the required physical connections have been made then you can add a further audio source by implementing the speaker system's Bluetooth facility. I had to make several attempts before I was able to make the necessary Bluetooth connection. When listening to music from various sources using this speaker system was an enjoyable experience. The use of the remote control unit allowed me to make various adjustments from the comfort of my armchair rather than using the out-of-sight controls on the active speaker.
Edifier has place a price tag of £299.99 on this product with the following specifications.
Edifier S1000DB

| | |
| --- | --- |
| Power Output | RMS 25W x 2> |
| Signal to noise ratio | 85dBa |
| Frequency response | 48Hz~20KHz +4dB |
| Input sensitivity | PC 900+ 50mV AUX 700+ 50mV OPT-COX 350 mFFs50mFFs |
| Input type | PC/Aux/Optical/Coaxil/Bluetooth |
| Treble driver | 1 inch |
| Midrange and Bass driver | 5.5 inch |