Bookshelf Speakers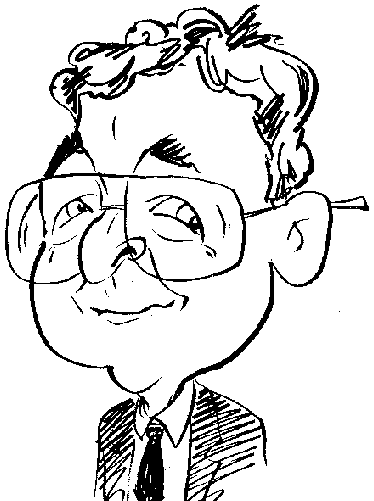 Review controls
With a model number of R1850DB, this Edifier speaker kit belongs to the company's multimedia range of audio offerings.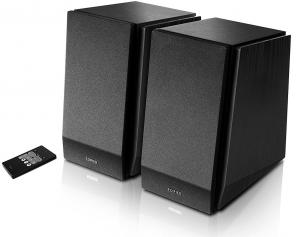 click image to enlarge
The Edifier R1850DB speaker system is made up of a pair of bookshelf style speaker units, a small remote control device, a collection of leads and a User Manual covering a selection of European languages. With this speaker system, Edifier has bundled four leads designed for different purposes. By far the longest and thickest lead is that for connecting the two speaker units together. This lead measures an impressive 500 cm. Also included is a 3.5 mm-RCA audio cable with a length of 164 cm, RCA to RCA audio cable measuring 162 cm and a fibre optic input cable offering 144 cm of length.
As usual with audio system of this type, the two speakers cover the role of active and passive units. Apart from the rear of the two units, these speakers are similar in size and appearance. Black in colour, the two speakers have dimensions of 154 x 254 x 224 mm (W x H x D). The base of each speaker features a built-in angle incline of 10 degrees to help accurately direct the sound output with dynamic precision,
As mentioned the other visible difference between the two speakers is concentrated at the rear of the units. Connection ports and other control option available with this speaker system are to be located on the rear of the two speakers. Most of the available connections and other options are positioned on the rear of the active speaker. Colour coded (white and red) line-in input ports are available for AUX and PC connectivity. These are joined by separate ports for optical input, coaxial input and bass output. Also found in this area are the system's power switch and a permanently attached 158 cm length of power lead. Radio style adjustment knobs are available for treble, bass and master volume with the latter also doubling as a Bluetooth activation facility. In the case of the passive speaker unit, there is just a single connection for linking this unit to its designated partner.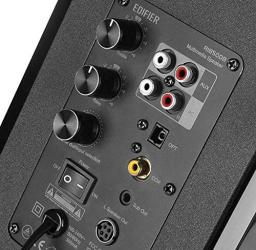 click image to enlarge
With the length of the provided leads, positioning this speaker system on a bookshelf should not be a problem as long as space and a free power plug, in the vicinity, are available. You could then sit back and enjoy your favourite music from a chosen source. Adding to the PC / AUX / Optical / Coaxial input routes, the R1850DB also supports Bluetooth streaming. While the first four methods of connectivity require the insertion of the appropriate lead (s) to receive your listening pleasure, Bluetooth functionality does call for a little extra input on behalf of the user.
The speaker system needs first to be switched to Bluetooth mode. This can be carried out using the supplied remote control unit or by pressing the mains volume control knob on the active speaker. A light on the front of the active speaker changes colour to indicate the current input mode. This light, which glows green in AUX or PC mode, will emit a blue glow in Bluetooth mode. Neither colour was particular bright. I found I had to look carefully in order to detect it.
As mentioned earlier, a remote control unit comes with the product. The remote control unit is powered by a CR2025 button battery which is already inserted into the unit but does require a protective shield to be removed. An arrangement of 14 buttons provides power on / off, mute, volume increase / decrease level, input source and Bluetooth. There are also controls to play / pause and cycle backwards and forwards. However these latter functions only exist when the speakers are in Bluetooth mode.
Providing the output for this speaker system are a 4.5 inch midrange woofer and 19 mm silk dome tweeters. By removing the cloth covered front panels, you can view these output elements. Overall the output delivered by this speaker system was up to Edifier's usual standard. While it might not appeal to hardcore WiFi enthusiasts, those looking for good audio causal listening should be happy. Edifier has priced this speaker system at £159.99.
Edifier R1850DB

| | |
| --- | --- |
| Frequency Response | 60Hz – 20KHz |
| Total Power Output | RMS 16W x 2 + 19W x 2 |
| Signal to Noise Ratio | 85dBA |
| Total Harmonic Distortion | 0.5% |
| Input Sensitivity | PC: 700+50mV |
| AUX | 550+50mV |
| Tweeter | 19mm silk dome, 6ohm |
| Subwoofer | 4.5 inch 6ohm |
| Dimension | 153 x 254 x 224 mm |