Bookshelf Speakers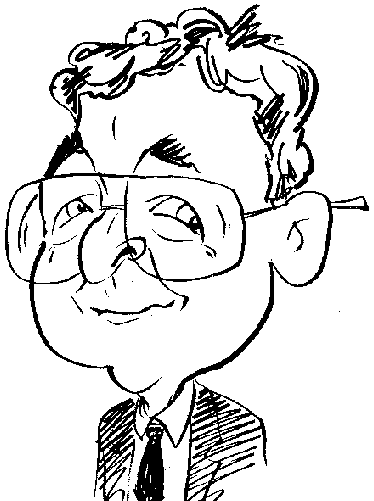 Review controls
With a choice of connection options, this next speaker system could deliver your favourite audio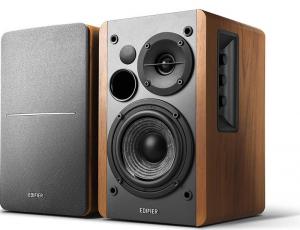 click image to enlarge
With the less-than-informative model number of R1280DB, this kit is a Bluetooth speaker system from the Edifier family of audio products. This particular model, sporting a classic wooden appearance suitable for various environments, is being targeted at a bookshelf location when it comes to positioning the unit.
The Edifier R1289DB is a two-speaker unit, consisting of one passive and one active speaker unit that is supplied with a selection of leads and a small remote control which you could easily overlook in the unpacking process. I know I initially failed to spot this device which had somehow managed to sneak under the supporting egg-box style protective padding. You also get a booklet style User Manual in various European languages and a leaflet regarding waste disposal issues.
As mentioned, Edifier provides various leads with this product. Permanently attached to the active speaker is the mains power lead with standard three-pin plug, This lead, while not over-generous at 160cm, should be adequate for most situations. An appropriate extension cable can be added if necessary. For connecting the two speaker units together you get a two-strand, see-through lead measuring 250cm which should be ample. Other leads for connecting to various audio content source streams include a RCA to RCA audio (170cm), 3.5 mm jack to RCA audio (also 170cm) and a 150cm fibre optic input cable.
While both the active and passive speakers, featuring a removable front cover for a more techno style look, have the same dimensions of 235 x 170 x 142 mm (H x D x W), the active speaker unit tends to dominate. Apart from the "clip and grip" linking lead connection on the passive unit, all the other available connection and control options are located on the active speaker. Arranged on the right side of the active speaker is a column of control knobs for adjusting treble, bass and master volume output. This latter option can also be used to switch between LINE 1 / LINE 2 / Optical / Coaxil / and Bluetooth modes following a series of presses on the knob. Below these knobs is a power light which changes colour (green, blue and red) to indicate the current input mode.
The active speaker also has its own "clip and grip" linking lead connection feature located on the rear of the unit. This is situated next to the LINE 1 and LINE 2 RCA input ports that are colour coded to aid a correct connection. Other options include connections for optical and coaxil input ports, power on / off switch and the permanently attached power lead.
While setting up the various physical connections, available to me, proved to be plain sailing, I did encounter one slight problem when opting for a Bluetooth pairing. Initially the smartphone, which was the nearest to hand, was unable to find the R1280DH speaker system. It was not until I turned off the smartphone's Bluetooth option and then turned it back on that a pairing was achieved. I then attempted to pair a second smartphone. This proved unsuccessful until I turned off the first smartphone and a pairing was achieved. Returning to the first smartphone, I was unable to create a Bluetooth link until the second smartphone was turned off. This is hardly a major disaster but one that might affect those who like to switch between different smartphone sources.
As you will probably be listening to the audio of your choice from the comfort of an armchair, the presence of a remote control unit is an important factor.. Unlike a remote control unit I came across forming part of another Edifier product that I came across recently, the buttons on this remote were clearly marked, making it easier to recognise their function. A boxed arrangement of Bluetooth, Pause / Play, Previous track and Next track is positioned on the bottom section of the remote. Taking up the rest of the space of the unit are buttons for power on / off, mute, volume decrease / increase, LINE 1. LINE 2. Optical and Coaxil input.
As I have come to expect with speaker systems from Edifier, the audio quality delivered by the combination of the R1280DB's four-inch Bass unit and 13mm silk dome tweeter unit, giving 21W ) 21W L/R is fine for casual listening. Hi-Fi aficionados might not agree but then they would be spending far more than the £119.99 being asked for this Edifier piece of kit.
Edifier R1280DB Speaker System
Power output
L/R 21W + 21W
Signal to noise ratio dB(A)
L/R >85dB (A)
Noise level
<25dB (A)
Input sensitivity
LINE 1: R/L 450+50mV
LINE 1: R/L 550+50mV
OPTICOA R/L 500+ 50mFFS
Bluetooth R/L 700+50mFFS
Frequency response
55Hz-20KHz
Bass unit
4 inch
Tweeter unit
13mm silk dome
http://www.edifier.com/gb/en/speakers/r1280db-built-in-amplifier-coaxial-optical-bluetooth-bookshelf-speakers