Dimplex ECO895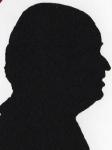 A lot of homes will have a Dimplex radiator, they are ideal for an extra splurge of heat. The latest offering does exactly that and a bit more for a start it can be remotely controlled by Bluetooth and an App but while earlier offering had a thermostat not much else, with this you can set in advance the times to go on/off automatically and still have a manual override.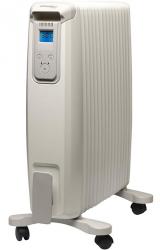 click image to enlarge
In the past most electric radiators were oil filled, this offering from Dimplex has no liquid in it at all and test show this heats up a room quicker and for less cost than the oil filled alternatives, it has another plus it is lighter to move around.
Open the box and remove the radiator it is 42x55x13cm, it has two feet (each with two castors) and these increase the width to 30cm and add 6cm to the height. The feet attach by two screws each to the base so you will need a small Philips screwdriver to complete the task.
It comes with a hard wired 1.25 metre mains lead.
The control panel is the top portion of one side it is 15x8cm and has a total of six buttons and three LEDs as well as a 4x3cm display. Towards the base is a dummy 13amp socket so you can plug in the lead to the unit when not in use.
When you change anything on the unit you get a red backlight to the black text, the normal display is black text on a grey background which can be hard to read in less than perfect light. There must be a battery back-up as even after a period unplugged it still remembered the time when plugged back in. However as this was between GMT and British Summer Time until you next connect your SmartPhone it is one hour behind, as soon as the connection is remade then the time is updated. However this also overwrites the heat setting to what is stored on the SmartPhone.
Unlike earlier radiators that at best had a twist grip to act as a thermostat this has a display that you can set to 1 degree Celsius and even on the unit as it has a clock built in you set times for it to go on/off etc.
The real fine control is in the App which you can download from the iOS or Android store it is called Remo.
Once a link is made you have more control and this is by Bluetooth, my own thought is that it might be more productive if it was by Wi-Fi.
The Bluetooth temperature change screen shows the temperature which can be lowered or increased by simple touch control. There are three settings at the base of the App screen, Eco, Low and High. The front screen can work in either a Window of Full Screen but in my phone you had to re-find the heater if you switched modes.
The four choices are Manual, Auto, Boost or Off. The Auto gives the ability to set start and end times for up to four separate events.
This heater worked well and allowed me to give a Boost when required. It is stated to be 2KW and is available in White or Anthracite. A full explanation of the difference between oil filled and no filled radiators is on the second link below.
The Dimplex ECO895 is available from the first link below for £177.
https://www.dimplex.co.uk/product/evorad-bluetooth-controlled-2kw-oil-free-radiator-white-0
https://www.dimplex.co.uk/blog/lose-oil-friendlier-way-heat-room