Braun 3040s Wet and Dry Shaver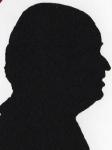 This is the latest electric shaver from Braun. As with most of their recent offering it can be used as a standard dry electric shaver or when the skin is wet as you would with a traditional blade based razor giving you the best of both worlds.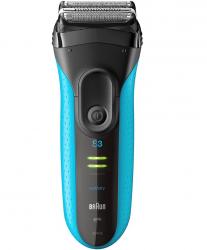 click image to enlarge
It has an internal NiMH battery that should give enough power for up to 45 minutes of continuous shaving.
It is 15.5cm from base to top of the shaving head, 5.5wide just below the head and a maximum of 4cm wide at the trimmer blade 2.5cm below the shaving head. It weighs 204grams.
The head has two cutting bars each 4cm long and around .5cm wide, between them is a 3cm long bar to cut the difficult hairs so if the first bar missed it the second should not, the ends of this centre bar guide hairs inwards to be dealt with.
On the rear of the unit is a 3cm wide sideburn trimmer that flips up by 3cm to stand proud of the shaver head this is operated by a push in motion that can only be nested or raised.
The charge point is in the base and has a small triangular propriety arrangement of pins to go with the lead supplied.
Both the front and back of the shaver are matt black the sides are in a non-slip turquoise blue rubberised material and even if your hands are covered in soap the shaver is very reluctant to slip.
Just above the centre of the face is a push button to turn the shaver on/off, below this between one and three illuminated slashes tell you the battery state.
To clean the head a slight compression and upward movement flips it off and once cleaned a very positive click puts it back in position.
Also in the box is a small 2cm wide brush to remove hair from the shaver, the 1.7metre long power lead which goes to a hard wired two pin plug. While I can understand 2 pin plugs for bathrooms most will surely charge the units from a 13amp socket so you will need an adapter.
The manual is in 24 languages with four sides in English which refer to a diagram inside the front flip out leaf.
Finally there is a clear plastic shaver foil cover. No carry pouch is supplied.
The SensoFoil is made to not aggravate the skin and of course the unit is fully washable and the box states the waterproof claim is made to 5 metres deep certainly deeper than any bath I know.
There is a quick five minute charge to give you a full shave while the 45 minute time for a full charge should last a week of shaves.
The Braun Series 3 ProSkin 3040s Wet&Dry Shaver is available from Amazon for £48 with free delivery.