Bose SoundTouch System

Published Feb 1, 2018 Author
petew
Review controls
A range of wireless, networked speakers that can talk to each other and to your other network enabled devices to create a multi-room synchronised sound space.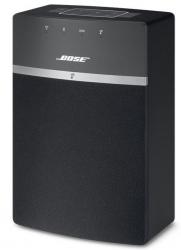 click image to enlarge
The main range comprises three speakers and an 'adaptor' that will allow a legacy speaker to become part of the network. There are also additional ancillary products available such as a soundbar and a system with a built in CD player (The Wave SoundTouch Music System IV). This review is focussed on the core speakers. The SoundTouch 10 is a small monophonic speaker idea for a kitchen. The SoundTouch 20 is a larger stereo speaker suitable for many normal size living rooms and the SoundTouch 30 is significantly larger for those with larger living spaces. All of the speakers have both Bluetooth and Wifi connectivity.
Bluetooth allows you to connect with your phone and other such devices.
Wifi has mutliple uses. Firstly it allows, via your Wifi and broadband service, direct connection to Internet services including: Internet Radio; Spotify; Deezer. If you have more one one product from the range then WiFi also allows those speakers to talk to each other such that whatever is being played on one can be heard on others of your choice within the network.
About a year ago I was looking for a replacement for my ageing kitchen radio and hopefully something with significantly better sound quality. I looked at various options and settled on the Bose SoundTouch 10 for the kitchen. While I'd originally expected to play Internet radio through my phone or computer onto a speaker I was very pleased to find the direct Internet capability of the product could directly stream all my favourite stations from around the world.
Sound quality from the SoundTouch 10 is very good as one would expect from Bose. Given the small size of the SoundTouch 10 I'm quite surprised by both the richness of the sound and the volume it can pump out - more that adequate to listen to talk radio over the dim of microwaves and washing machines on spin cycle.
A couple of months ago I took added the SoundTouch 20 to my home, this being located in my living room. The primary use of this is to connect to my TV and to play radio and music. Being a larger device the sound is that much richer and more than capable of filling the room.
Both the SoundTouch 10 and 20 have the same basic controls and the same remote control (which work on both, so I have a spare!). The controls on the unit include four station presets that I have programmed to my favourite radio stations however the can be programmed to deliver other services. Other controls include volume up/down, power and a 'bluetooth/aux' selector.
To get the most out of these product you'll need to install a controlling application. These are available for many devices and I've installed and used both the Android application and the equivalent for MacOS.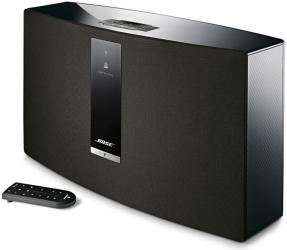 click image to enlarge
While I've mentioned WiFi connectivity in this article it should be noted that both the 20 and 30 include a wired Ethernet port if you do have problems with wireless signal strength.
As you can imagine with all this functionality there is a price to be paid with setup. These products are not plug-and-play and need to be configured to talk to your network. While I've seen this done very badly on many products I'm, happy to say Bose seem to have done a very good job of minimising the pain. Out of the box the products create their own private WiFi. Install the Bose application on a suitable device and connect to the new network and you can then configure the speakers to their new environment and attach them to your live network.
With two products from the range I could now experiment with pairing them together and streaming sound between them. This is controlled from the application and is trivially easy. Start a sound source on one speaker. Open the application, select the source device then tell it which other speakers you'd like the sound on. You can select 'all' or individually add speakers to the collection.
The application also enables software upgrades to the speakers and I've noticed new features are being added. Most recently there's an 'experimental' feature that allows you to take a music source in through the aux lead and then send that to any of the other speakers in the network. This is not without problems but I can see a lot of uses for this over time.
Generally I'm very pleased with the SoundTouch system but I do have a few issues (no product is perfect!).
I've only really one complaint about the system and that's with respect to Bluetooth. I attach my laptop to the kitchen speaker via Bluetooth so I can listen to Netflix properly while I cook. This does work perfectly but the system has the incredibly annoying feature that anytime I open my laptop it connects to the speaker which then automatically switches to the Bluetooth source regardless of what I was actually doing. 9 times out of 10 this is NOT what I wanted. If I'm listening to the radio and open my laptop the speaker should not switch sources without a specific request from me.
These products are not cheap. The SoundTouch 10 is currently £159.95 (although in white is £10 less at £149.95). The 20 is around £260 and the 30 at about £420. If you want a CD player, which I'd really like, you have two options. The Bose Wave SoundTouch Music System IV which is a whopping £600. The alternative is to plug in an external CD player via the aux connector but that really then spoils the system and of course you have no control over the player from the application.
There is some information available on the Bose website but they unfortunately don't have an overview of all the SoundTouch products in one place.