PENTAX Optio RZ10 Compact Camera

Review controls
The PENTAX Optio RZ10 is the perfect Christmas gift for those wanting a new compact camera. It is a solid little chunk of technology featuring a new-design sensor which reproduces stunningly true-to-life colour and detail.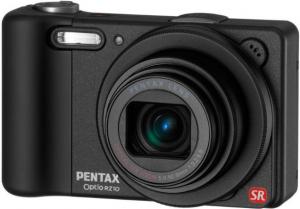 click image to enlarge
We haven't been able to experiment with absolutely all of the possibilities offered by this excellent and competitive compact camera but as far as taking excellent photos right out of the box - it certainly does! What is clever about the Pentax is the way that the highly intelligent Auto-Picture-Mode works SO well - especially in combination with the rock-steady digital shake reduction - to deliver crystal-clear images with deep colours every time.
The RZ10 lacks a physical 'video now' short-cut button but it's easy to get to video mode with a couple of selections in the clear and easy menu system. It is possible in seconds to access all aspects of photo/video quality and settings so that you can decide 'on the fly' how you will tailor your images and best utilise your memory card space. The big LCD viewer is very clear and sharp too; handy as there is no optical viewfinder.
The 'Burst' mode allows the taking of up to 40 images at a rate of 9.1 pics per second - superb for those times when you need to capture a special moment of action. The automatic face recognition is fun to play with too. You can set it up to automatically photograph your subject when they smile! It also recognized our Halloween pumpkin head as being a face - much to the kids' amusement..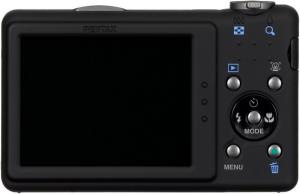 click image to enlarge
I am not a professional photographer but the detail and quality of the settings available impresses me and seems to offer scope way beyond what most purchasers of a compact digital camera would ever need. This camera takes superb snapshots but comprehensive adjustability in the settings also makes this a worthy tool with the scope for those with aspirations toward truly personal and creative photography.
The RZ10 is available in a number of colours including black, green, orange, white and blue. Checking Amazon I found the black version £168.05, including free delivery black version $199.95, including free delivery white version €169, including free delivery.
Here's the Tech Spec from Pentax:
Optical 10x zoom lens for a variety of subjects and scenes – lens covering focal lengths from 28mm wide angle to 280mm telephoto. An intelligent zoom function allows the zoom range to be extended to 67x (1876mm) in the 35 mm format. With macro photography as close as 1cm you can be sure of capturing your subject near or far.
Dual Shake Reduction to assure sharp images – combines mechanical and digital shake reduction systems which minimize camera shake to achieve the highest quality blur-free images.
HD Movie recording – records movie clips in high definition HDTV resolution
Auto Picture Mode – automatically selects the most appropriate shooting mode for a given subject or scene. Selecting from 16 scene types this optimises numerous camera settings including sensitivity and shutter speed to ensure the best results.
Exceptional Picture Quality – the high performance imaging engine combined with the 14 effective megapixels sensor reproduces true-to-life colours and exceptional image resolution.
Automatic Face Detection – detection of up to 32 faces within the image field for sharp focus. Plus the ability to make faces smaller, an automatic shutter release to capture smiles and blink detection to avoid closed eyes.
Other goodies provided by the Pentax:
Pet mode – detects pre-specified faces of pets
Large, easy-to-view 2.7-inch colour LCD monitor with approximately 230,000 dots
Burst Shooting of up to 40 images at a maximum speed of 9.1 images per second
Digital filters, including Toy Camera and Retro, to add creative visual effects
Choice of three image sizes (4:3, 16:9 and 1:1) to accommodate different applications
D-Range setting to prevent whitewashed (overexposed) and black-out (underexposed) areas in an image
Digital Panorama mode to effortlessly create a single panoramic picture from as many as three images
MediaImpression 2.0 for PENTAX software for image viewing, editing and filing applications (compatible with the latest operating systems, including Windows 7 and Mac OS X 10.6)
Eye-Fi connected: optimized for use with Eye-Fi wireless memory cards