Ben Q BL2420Z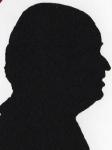 This is an LED backlight monitor that is kind to the eyes and also is part of their value series. So what does this have to offer that will tempt you away from whatever you are currently using.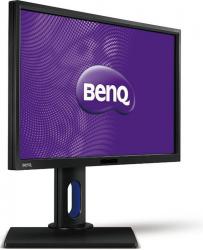 click image to enlarge
Normally whatever panel I am reviewing gets attached to my review system that gets all the new software and hardware. Currently my main system is at the local repair shop so whatever day to day files I need have been installed on this unit from my last backup – yes they do have a use – and this panel will get an even more rigorous test as it now is attached to my machine for emails etc. as well as testing so in use all day every day.
It is 22x56x2.5cm, the viewable screen is 29.5x52.5cm this gives the notional diagonal imperial measurement of 23.8inches.
It has a line of five touch buttons towards the right side of the base of the screen surround that can adjust just about everything but like most modern panels the Auto setting will take some beating.
Alone the back of the unit towards the base is an overhang and under this are all the connections in a row. If you are unsure of what is what either strong daylight or a torch will show you what is what as they are inscribed black on black on the area just above the overhang.
From left to right two USB, USB connector, 3.5mm headphone out, 3.5 audio input (for D-Sub), D-Sub (VGA), Digital and Display Port. Further along the mains input via kettle type plug with an on/off rocker beside it.
All these connections are well away from the two-part connection arm which means cables do not tend to become entangled.
In total there is one twist screw to connect the screen to the base. The arm is telescopic, the base of the screen can be as little as 5cm above your desk or as much as 18cm, there is a good amount of back tilt and a tiny amount of forward tilt, finally lots of side to side movement on the 28.5x17.5cm base.
The total weight of the unit is 7KG.
It has two small speakers which should provide enough volume in a quiet environment. The wattage stated is 23watts.
There are nine pre-set brightness/contrast modes as well as a tenth for user selection, I tried them all but always returned to standard for general use. These and a multitude of other settings are available from the touch buttons below the screen.
While 1920x1080 is the standard screen resolution some might want more and for that you would need to look at other panels.
However, for standard uses such as word processing spreadsheets and email this works well, there is a low blue light mode and it is flicker free so for anyone using it for long periods it is user friendly.
I did watch the odd video or three and viewed a multitude of web pages while listening to music.
The Ben Q BL2420Z is available from Amazon, priced, at the time of publication, at £158.92 with free delivery.