BenQ GW2780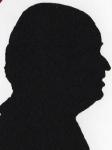 As you might get from the title this is a 27inch panel. Like most recent offerings it manages to take a minimal amount of desk space and also to supply an excellent image while at the same time looking after your eyes with flicker free 1920x1080 resolution.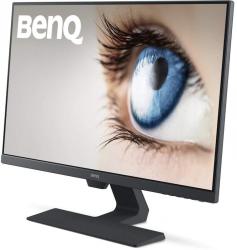 click image to enlarge
The BenQ GW2780 measures 61x36.5x1.5cm, its stand is an inverted T with the top of the T being 31cm long and 9cm thick and the upstroke linking the stand to the support arm 7cm wide. It lifts the panel by 10cm from your desk. There is around 30% of back tilt and close to 10% of front tilt.
With the stand attached it weighs just under 5kilos. It can be wall mounted should you wish and the weight without the stand is less than 4kilos.
The viewable screen is 60.5x34.5 which gives the notional diagonal imperial measurement of 27inches.
The top and side borders are tiny which is ideal if you are linking two of more displays together the only substantial border is the 2cm one at the base.
Unlike some other manufacturers who have external power supplies BenQ put theirs internally so you only have one lead from the power socket to a three pin input.
While on power the stated power consumption is 32 watts and standby is.5 watts.
There are six push buttons under the bottom edge of the screen towards the right edge that control everything, however like almost all recent panels trying to improve on the 'Auto' resolution is not possible so the only button you will need is the rightmost on/off.
On the rear the mains power is input on one side of the support arm and your choice of input from Digital, VGA and HDMI are on the other side. There is a headphone jack and audio in for those using VGA.
The following is taken from the BenQ web page and sums up things in a few words 'BenQ GW2780 27 frameless monitor combines ultra slim bezels with hidden cable management. Complementing BenQ exclusive Eye-Care™ Technology with Low Blue Light Technology and Flicker-Free performance for extended viewing comfort, industry-leading Brightness Intelligence Technology delivers exquisite details in any ambient lighting environment.'
Like almost all recent panels the claim of 178 degree viewing angle is mentioned and while this may be true I would certainly get a neck ache viewing almost side on.
I subjected myself to viewing several movies and was more than happy with colour and brightness even for those where black seems the predominate colour.
I also tested it for normal work environments of word processing and long and wide spreadsheets without and serious eye strain. In fact I cannot think of any task I asked it to display where it did not tick all the requirements.
I do not have the space to test several panels in a display together but the extremely thin edges and top mean this should work without problem.
The BenQ GW2780 is available from Amazon for £191.97 including free delivery.