Asus Panel VX279Q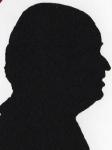 While I think of ASUS for notebooks and Tablets and – although I have yet to review one – All In One systems which of course all have screens I was not aware until a recent visit to the BETT education event that they sold standalone screens.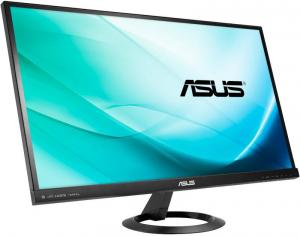 click image to enlarge
This is a 27.75 inch offering strangely only 27inch is claimed. The screen is 61.5x36x1.5cm the last figure at the edges. It has a 21cm circular stand that raises it by 7cm from your desk. There is a good amount of back tilt and even some front tilt. It weighs 4.47kilos.
There is a single line of connections just above the stand mount connection on the rear. DC input, Display Port, HDMI, VGA audio in for VGA and headphone out. All are easy to get at which is a vast improvement over some panels that have you uttering nasty words because cables have wound themselves round the connecting arm.
Until recently Display Port was a niche connection but now I see a lot of recent offering including the new Microsoft Surface come with mini Display Port connection. The only mainstream offering not here is Digital although a lot of screens have it far fewer PCs and almost no notebooks have it.
There are seven touch buttons under the bottom right edge of the screen surround. As with most recent screens it auto senses the change of input but if for some reason it does not a few touches on the appropriate button should have your display working again.
I tried all three modes and was more than happy with 'Auto' settings making all but the on/off button redundant. I found there was plenty of spare contrast and brightness should you be viewing in strange conditions.
I was especially happy with the sound from its internal (3watt) speakers using HDMI and Display Port; it was less brilliant using USB and an audio cable but that is feature of most systems that connect via VGA.
As with a lot of better panels you also have support for mobile screen viewing using HDMI.
The viewing angle is claimed at 178 degrees and I can say that it was possible to read the contents of the screen at angles well to the side and above and below the last two when the screen tilt was correct.
The only edge was along the bottom of the screen the other three sides go to the edge of the display.
It features Vivid Pixel technology making the image sharp and clear.
It comes with a three year warranty.
The ASUS VX279Q is available from the first link below for £214.97
https://www.scan.co.uk/search.aspx?q=ASUS+VX279Q