Alcatel Pixi 3 8inch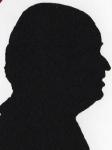 An 8inch Tablet that runs Android 5.1.1 not quite the latest version but still recent. My test unit came direct from Alcatel in the UK but was a model sold by O2 in the UK, unlike a lot of Tablets it has a micro SIM slot so can be used online while out and about.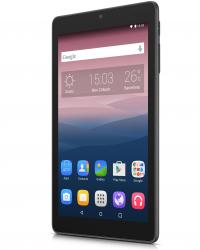 click image to enlarge
It is an 8inch Tablet the outside dimensions are 21x12.5x.8cm and it weighs 335grams. Going around the outside it has two bar buttons on the right side on/off and volume up and down. The base and left side are clear with the top having 3.5mm socket for headphones or earbuds and a micro USB port for charging – no support for OTG devices - and a pin hole microphone.
The rear has a 5MP camera that sits slightly proud of the body and there is not an LED flash. Towards the base is an adequate speaker for a quiet environment and near the top on the edge near the side is a flip open cover that reveals a Micro SD card slot and a Micro SIM.
This is a 4G LTE phone and data carrier, for most of us 4G LTE may make you think it's 4G it is not, but, it is about twice as fast as 3G but still a lot slower than 4G.
So what is on the inside of this Tablet, a 1.3GHz quad core processor, 8GB of memory with around 4.3GB free out of the box. It has a 5MP camera on the back and a 2MP camera at the front for selfies.
It comes with all the Android 5 software installed plus extras provided by O2 also available from first boot up.
A full recharge from empty took around three hours and this lasted for a couple of days of normal use and around 8 hours of continuous use.
I found this a responsive and easy to use Android system, the 8inch screen size made reading documents and web pages easy even when outside. Like any portable unit it is somewhat reflective and the screen does show fingermarks.
I was unable to test the units mobile ability when away from Wi-Fi as I do not have an O2 SIM, however on Wi-Fi in my home it worked fine even in areas that are sometimes close to not getting good Wi-Fi coverage.
I inserted a couple of different Micro SD Cards and played both movies and music stored on them without problem.
I was able to use iPlayer to download material and play this back while out and about. When using this I used headphones as the volume level adequate in a quite environment would not be so when outside and or course this would annoy others who might not enjoy my music. The volume level needs to be reduced to around 50% on headphones but on the speaker it needed 100% level. It fits nicely in the spread of an adult hand so you can walk around easily while holding it.
Having the ability to make and receive calls is possible a good reason to have a Tablet rather than a SmartPhone as other tasks are often easier to do on a Tablet and for those using a single device for all tasks this could be worth considering.
The Alcatel Pixi3 8inch is available from O2 for £89.95 but it does say 10% discount and this would be on PAYG.