Acer Nitro 5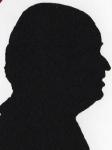 Most people think of Acer for their comprehensive Aspire range which varies hugely from entry level to really powerful business machines, they also have the Predator range of gaming systems and as I recently found another range call Nitro, here I am looking at the Nitro 5.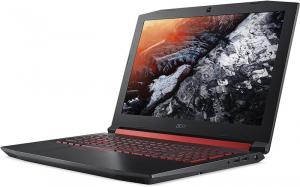 click image to enlarge
The Acer Nitro 5measures is 39x26x2.5cm and weights 2.454kilos.
This is of course a powerful machine likely to be used by gamers. This means that battery life may not be that great, the best I got streaming video was around four hours. I see the figure quoted is 'up to 8.5 hours'.
So going around the outside has a Kensington Lock port, an Ethernet port, USB 'C', HDMI, USB3 and SD Card socket. The front is clear apart from the speakers that are under the cut away corners. The right side has 3.5mm socket for headphones, two USB2 ports, two LED's and DC input. The rear is also clear apart from the heavyweight cooling fans. The screen goes back to around 140 degrees to avoid blocking the cooling vents.
The viewable screen is 34.5x19.5cm which gives the notional diagonal imperial measurement of 15.6 inches.
There is a 104 key keyboard which is red of black so unless you are a perfect touch typist will probably require the backlight of the keys to be turned, with mains connected this stays on, when set on battery the keys remain lit for 25 seconds after the last key is touched.
Startup was a rapid 12 seconds, and shutdown (screen blanking) 3 seconds. The screen display is 1920x1080 and the default resolution is 100% which shows a good amount of detail.
Norton Security is installed along with Music Maker Jam and of course Windows 10 Home version 1709 – the latest that I am aware of - finally some Acer Apps in the form of Acer Care Centre.
My unit came with an Intel i5 running at 2.5GHz and it had 8GB of RAM.
As far as storage it has a 128GB SSD and a 1TB Hard Drive.
Acer tends to offer a range of processor, memory and storage configurations. The nearest I could find on the Acer site was the same as mine but without the SSD in front of the hard drive so expect the initial booting etc. to be slower without the SSD.
Regular readers will know I tend to review on business and home use; this would be very rapid for either or both of those scenarios.
Most gamers I know would not run on batteries – so the backlight would remain on – also they would prefer Ethernet which a lot of other units might not offer so they get the fullest bandwidth possible.
This is certainly not a unit to walk around with unless you are using as part of a fitness regime.
The sound from the inbuilt speakers was fine for normal use but I am aware that gamers live and die by hearing the slightest noise and hoping their reactions are good enough so they would probably use a pair of headphones.
Looking through the Amazon choices found a match for what I was sent and it's the first link below, I also see their is an AMD option listed for those prefer that manufacturer.