Acer Holo 360 degree camera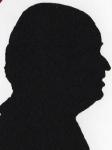 This camera is much the size of a mobile phone and like a great many mobile phones it runs on Android. While it has internal storage it can also accommodate a micro SD card and indeed initially slightly more puzzling it can also take a SIM card, this is however solely so you can send data that you capture while still out and about to various sites.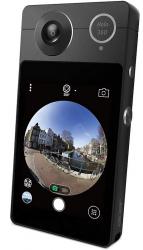 click image to enlarge
The Acer Holo 360 measures 11x5.5x1.3cm and weighs 141grams with the supplied wrist strap attached. The viewable screen is 6x4.5cm which gives the diagonal notional imperial measurement of 3 inches.
Bootup is 15 seconds while shutdown is 3 seconds.
Going around the outside has on/off on the right side with camera button below this, the base has micro USB port for charging and a 3.5mm headphone socket. The left side has SIM and micro SD Card socket behind a push open tray, above this volume up and down. The top is clear. There are twin pin hole microphones either side 2cm down from the top and the anchor point for the wrist strap can be either bottom right or bottom left, your choice.
The top left above the screen is the front facing camera and centre top of the back is the other camera both are 1cm across and slightly domed to create the 360 degree view.
It has 16GB of internal memory with the ability to supplement this by up 128GB of micro SD card. Once you select SD card from settings it will refuse to put images or videos in internal memory even if the SD card has been removed until you change the setting.
Both cameras are 16MP and the rear camera can take perfectly acceptable 16:9 images and there is another mode giving a more squashed view. However the clever bit is the two circles when joined that produce a 360 degree view. These can be still or 4K video equivalent.
The version of Android is 7.1.1 Nougat but do not expect all the features of a phone. There is Wi-Fi and Bluetooth support.
So why the SIM and while you can get past it by clearing it from the screen what is the point, I inserted a Nano SIM and was able to boot without the nag, unless you want to spent a lot of money on data I would wait until at home or office and use Wi-Fi to send your videos to social media sites which seems to be the only use for the SIM. You could also insert a SIM and turn mobile data off.
There are a total of five modes all fairly self-explanatory, Crystal Ball, Panorama, Super Selfie, Little Planet and 360 degree all available in either photo or video.
My unit came with a grey slip case as two lenses and an LED screen are a lot to get scratched if not protected.
While I got some good 360 degree images I remain unsure about this offering, it is certainly somewhat cheaper than certain dedicated 360 degree cameras but I would have liked a tripod anchor point for both remote and hand held use so your body or hand can avoid being captured.
The Acer Holo 360 is available from the link below for £299.99.