Acer All In One Aspire U27 880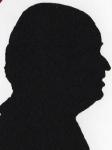 All In One PC's are not exactly new but here is a large screen offering that is equipped with lots of good features and even includes a Thunderbolt 3 socket as well as HDMI in the latter ideal for you to attach a PVR for those after work hours watching.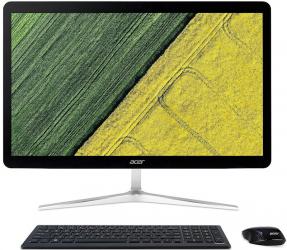 click image to enlarge
The screen is 63x39x2cm the stand is fixed and raises it by 10cm from your desk. The stand is in the shape of a 'V' with 13cm being behind the screen, the sides of the 'V' are 33cm long which means it needs a total of 25cm from back to front of desk space.
The notional diagonal imperial screen measurement is 27inches.
Under the bottom edge of the screen are an On Screen Menu button that lays flush, SD card port, USB socket (taken by USB2 RF port for keyboard/mouse) and Audio Port.
The back near the right bottom edge is the on/off button with its LED showing on the face of the screen.
All the other controls are in a single line ten centimetres in and eight centimetres up from the base of the back, they are, DC input, Ethernet, HDMI in, HDMI out, three USB3 ports and a USB 'C' port.
At the top centre of the screen surround is the Webcam that has dual pin hole microphones either side of it.
I assume that the little dongle for keyboard and mouse would be in the box on my test machine it seems to be fixed into the USB2 port designated for that purpose.
All the information I have given I would hope would be in a setup guide but no documentation was in the box of my machine. The keyboard requires 2x'AAA' batteries and the mouse one battery. The mouse is a 10cm long and 6.5cm (max) wide three button offering, the keyboard is 35x13cm fixed offering of 102 key offering with the alpha and numeric keys being full side, it's nice to type on and its small overall size sits well on the lap.
I had to spend a number of hours updating it as for some reason it arrived with V1607 of Windows on it. It now has the current V1803 but as the update had to go to V1703 and V1709 before I could get there it was not a great greeting.
There are two versions of this available in the Acer store I was sent the higher specified version, while it has a Thunderbolt socket I do not have any Thunderbolt drives to test the 'up to 40Gbps' transfer claims.
It has an Intel i7 Dual core processor running at 2.7GHz (3.5GHz turbo) and has a 4MB cache, there is a 2TB drive divided into two 1TB offerings (C and D) and comes with 8GB of memory.
It has a two year warranty and has Windows 10 64bit pre-installed. While this is unlikely to me moved around much as it is mains only it did work fine on my Wi-Fi as well as Ethernet.
After my initial two day struggle to get it working I actually loved it. As Windows 10 was designed for touch use this offering with its 10 point touch really works well and it did everything I asked without problem.
I assume the previous user was someone in sales to education as the screen background was of children in a classroom, as I am sure most users will know that when Windows fails with a couple of updates there really is only one thing to do and that is start again as certain updates will not install without previous updates etc.
The screen was clear and bright; it did not seem to show fingermarks and the grey surround means these do not show finger marks either.
Currently there is £300 off in the Acer Store so this is £999 rather than £1299.