ASUS X541SA laptop

As the start of the school year comes rushing up both parents and students start looking at new laptops. While the former want value for money and an assurance that it will do what is wanted of it, for the latter, style is also important.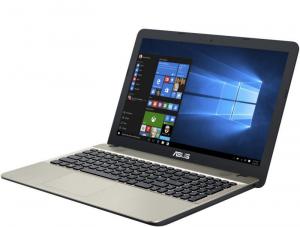 click image to enlarge
In terms of basic specification the VivoBook Max X541SA should tick all the right boxes. It is available in an attractive brushed finish in either silver/white or red/blue and has a 15.6 inch 16:9 (1366 x 768) screen, an Intel dual-core Pentium processor N3710 1.6/2.56GHz (burst), 4GB RAM and a 1TB hard drive. This should prove adequate for the majority of school and college work as well as playing games and viewing videos and movies even though it would be unreasonable to expect it to cope with video editing and high speed gaming.
As well as having a full size keyboard with keys having a comfortably full travel there is a 105 x 75mm "Smart Gesture" tracker pad, an integrated webcam and microphone, an SD memory card reader and DVD/RW drive with double layer support. The built-in stereo speakers provide very acceptable audio both in terms of quality and volume. Even though I did not find the tracker pad very easy to use at first, I suspect that this would improve with experience.
There is a full range of connectivity options starting with 802.11 b/g/n wireless which will probably be the more widely used than the 10/100Mbps Ethernet. (I don't think that the lack of Gigabit Ethernet will be of significance to many users.) There is also Bluetooth 4.0 for local connectivity, 3.5mm audio jack, an HDMI port for connecting to a TV or an external monitor. In addition to there being one each USB 2.0 and 3.0 ports, there is also a USB-C port which is on the way to be widely adopted because it is high speed as well as employing a reversible connector.
It is practical to use this laptop away from home as the life of the 3-cell Lithium battery is claimed to be up to 4.5 hours and so should be adequate for a day's school work while the unit's weight of 2kg and size, 381 x 252 x 27mm thick, ensure that it is not too much of a burden. Furthermore, the slight bulge of the holder for the Lithium batteries that runs along the underside at the rear of the machine provides a comfortable hand-hold so that it can be carried around easily.
In addition to 16GB of free Web storage being available there are a number of trial versions of application software together with the free version of the WPS Office suite so that the user would be able to get started even though many users will probably opt for Microsoft Office – especially as Microsoft offers a Home and Student edition.
With the X541 laptop ASUS has been concentrating on the essentials and in providing good value for money. Cost and weight have both been kept down, without sacrificing strength (important in a product to be used by students), by using plastics instead of metal in the case. Similarly, rather than an extensive manual it just provides a basic user-guide which shows how to perform basic tasks and which is enough to get the new user started. On the other hand USB 3.0 and USB-C are provided because the offer useful added performance. The overall result being a useful all round machine priced from £279.99 that should be within most people's budget.