AOC I2475PXQU 24 inch screen

The AOC model I2475PXQU is a 24 inch 1920 x 1080 full HD monitor incorporating an IPS panel for good colour rendition and wide viewing angle together with LED backlighting for long life and energy efficiency. It is a good all-round monitor for both work and pleasure.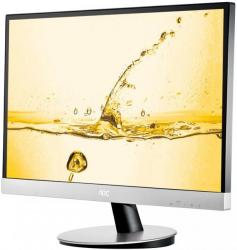 click image to enlarge
The narrow black bezel around the 10:6 aspect ratio screen, which has an actual screen diagonal of 23.75 inches, has resulted in the monitor being just 22inches wide. Hence, it does not appear to take up an enormous amount of desk space.
The design of the stand makes it easy to set the screen at a comfortable position and angle. At its lowest, the bottom edge of the screen is just 3 inches above the desktop and it can be raised by up to 5 inches from that while it can be tilted through the range of +20 to -5 degrees. For those who need it, the screen can be swung from the normal landscape orientation to portrait mode. By the way, for wall mounting, with the stand completely removed the standard VESA 10cm pitch screw holes are accessible.
The picture quality is more than satisfactory for both work and pleasure so that for example, with spreadsheets, it is possible to work with 8pt type and so maximise the number of cells on screen; while for images and videos one gets good colour rendition and wide contrast range so that a great deal of shadow details can be seen.
There are VGA, DVI, HDMI and DisplayPort video inputs which can be auto-detected or selected using the on-screen display menu or a hot key. There are VGA, DVI, and DisplayPort plus USB 3.0 and audio cables in the box.
While I felt that the audio could have been better I do not feel that it is a major issue as those users, who want good quality audio, will generally use external speakers.
The OSD, which covers a wide range of settings, is conveniently accessed via the row of hot-key push buttons located under the right-hand side of the bottom bezel. They also provide access to functions such as input source and sound volume plus, of course, power on/off.
Under the luminance heading of the OSD one can adjust contrast and brightness as well as selecting, in the Eco mode, from a choice of standard / text / internet / game / movie / sports. I must admit, however, that I kept it on standard most of the time.
There are three USB outputs provided: two USB 3.0 (one of which is fast-charging) behind the RH side of the screen and a USB 2.0 one which is located alongside all the other connectors to the monitor.
Among the software provided on disc, in addition to the manual in PDF form, are drivers, i-Menu, e-Saver and Screen+. i-Menu provides on-screen menus which make it easier to adjust display settings than using the OSD buttons; e-Saver is power management software while Screen+ is a desktop screen splitting tool which "splits the desktop into different panels, and each panel displays a different window..."
It is an energy-efficient monitor with a power consumption of about 0.5W in its standby mode and 65W when used at maximum brightness and contrast. However, the instruction manual suggests that in normal use it will typically be about 40W.
Overall, this is a 24 inch monitor which should meet most user needs and, having a choice of inputs, can be easily used with two PCs as well as offering a degree of future proofing. With a list price of £141.99, but probably at a lower price on Amazon, the I2475PXQU is a good solid product at a not unreasonable price.