Damson Oyster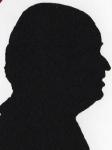 Review controls
An item from a newish company in the speaker area. This one offers easy Bluetooth and 3.5mm lead connectivity. So in this very crowded area is there space for another company, read on to see what I think of the Damson Oyster.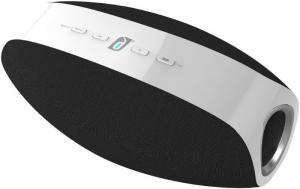 click image to enlarge
A week before the Gadget Show in Birmingham where this was launched, journalists were given a chance to hear it in use and meet the CEO of Damson.
The place chosen was a large room on an upper floor of an event venue called The Hospital. I got there at the prescribed time and had a long chat the CEO. I was expecting to take away a review unit but these did not arrived until several weeks later.
However as soon as I plugged it in I knew this was worth waiting for. I have a range of music of MP3 and WAV formats that I use to test all such units and I was initially impressed.
It is shaped rather like a rugby ball at 22x11x8cm at its maximum, it weights 795grams.
It sits on a rubberised base with fabric covering the speaker grills from and back and wire mesh covering grills at either end.
Just above the base on the rear of the unit are two connections for DC input and 3.5mm jack if required.
As it sits slanting forward the four touch buttons are pointing slightly towards you, I am pleased to say no remote control.
The four buttons are on-off, Volume -, Volume + and Source. Between the two volume buttons is the 'd' logo with a rather good pin hole microphone just below. The centre of the 'd' has an LED whose colour changes according to the connection type. This can be red, blue, green, yellow or white. All is explained in the one side of the Quick Start Guide that is in English.
It can be run from mains and the DC lead is 1.8metres. In the box is a carrying pouch, a 3.5mm lead and the Quick Star Guide. If you are using it connected to a phone you can make or take a call using the pin hole microphone.
The shape has something to do with the quality of sound and this applies to both Bluetooth and via 3.5mm lead.
Both the front and back grills are held on by magnets and can be removed if required, the side speakers metallic mesh is not removable and form part of the plastic one piece that that links the two sides and top of the unit.
Often vocals sound good with one setup and electronic music another, bass does not need huge speakers as these just accentuate the sound, an acoustic guitar often sounds good in other environments.
I tried all these modes with the Oyster and was happy with all, so good base, good vocals, good acoustics and electronic sounds all from a single small unit.
The Damson secret seems to be four drivers and a sound that is almost surround. It may not seem possible and I dare say people with equipment costing many thousands will disagree but for a small unit the sound quality was excellent.
However before you expect me to say it's perfect it isn't. The stated battery life is 12 hours I never got more than 9 hours. I was told that the Bluetooth it uses does not drain the battery any more than using a 3.5mm lead and in my tests I found this to be correct. Of course nine hours is still a very long party so it may only be a small minus.
My unit is all black which for me is nice, I see that you can have black grills with white for the central strip from side to side. I have been told that you will be able to buy magnetic grills in a range of colours so you can change them to suit your mood or even the décor. To me however it is all about the sound that the four speakers and the sub-woofer gives and this is rather good verging on excellent.
I mentioned one problem the battery life above, there is another, the price. Before I saw the price and heard it for myself with my own music in my home the CEO asked me what I thought the price would be and my guess was 2/3 of the price. Having heard the quality I still think it's a little expensive but by maybe only 20%.
The Damson Oyster is available from the link below for £179.99 with free delivery.
http://www.amazon.co.uk/gp/product/B00BJGC1ME?ie=UTF8&tag=gadge0a-21&linkCode=as2&camp=1634