The NomadKey Lightning

Published 5 Apr 2015 Author
bidmead
At this year's Wearable Technology Show in East London's ExCel Exhibition Centre one ubiquitous topic of conversation was the staying power of today's batteries. Smartphones, ever hungrier for power while dieting down to wafer thinness, exemplify the problem. My own solution is to stick with phones like Samsung's Galaxy Note series that have easily replaceable batteries, but these are becoming rarer as designers seek to outdo each other in the race towards edge-on invisibility.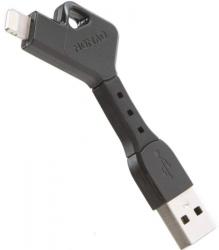 click image to enlarge
I wouldn't want to advocate the revival of the Motorola Brick (although I still have fond memories of that first fat phone of mine - a favorite, legend has it, of club bouncers who could use it in an emergency as a weapon, swinging it by its "rubber duck" aerial against the head of any intransigent would-be gatecrasher). But anorexic devices with entombed inaccessible batteries have become a universal challenge. And Apple's iPhones have been long-term offenders in this respect.
However, help is at hand...
The NomadKey Lightning is the iPhone version of an ingenious keyring gizmo that solves the ubiquitous problem of premature battery rundown. There's hardly anything to it: a bendy key-shaped stick of black rubber-like material with a USB 2.0 compliant connector on one end and an Apple-proprietary Lightning connector at at the other.
Obviously you'll also need a charging source - a laptop, a USB mains adaptor or a battery power pack. But in my experience these are a lot easier to find than a cable to connect them to the perversely "think different" Lightning socket that Apple introduced in 2012 with the iPhone 5 (while the rest of the mobile world standardised on microUSB). Apple now uses the Lightning connector for all its newer phones. Tablets, too, and as these need even more juice it's good to know that the NomadKey can handle a full 2.5 amps of current. It's worth knowing too that the Lightning connector is also fully certified by Apple - iPhones have been known to refuse to play with some of the cheaper third-party LIghtning look-alike connectors on the market.
Carrying a traditional cable around in your pocket may not be to your taste. Even the shortest length, 0.5m, is fairly bulky. On the other hand, unobtrusive on your keyring, the solidly built NomadKey, crafted from scratch-resistant Bayer Polycarbonate and Dupont TPE Rubber, measuring 6.6 x 0.5 x 1.9 centimetres and weighing just 7 grams, is guaranteed to be always handy. In practice you probably won't use this for daily charging, as the short connection tends to position the phone awkwardly. But as a rescue device when you're caught short it's the bee's knees.
This current model is an improvement on the earlier NomadKey, now redesigned to be sturdier and with the keyring attachment loop reinforced following reports that this tended to split in the earlier version. A similarly improved companion model with a microUSB connector is also available for regular phones.
The UK price is £19.95, and you can get it from the helpful folks at London-based Device (getdevice.com), who as well as mobile accessories also specialise in fitness trackers and other wearables.