Prestigio MultiPhone 5500 Duo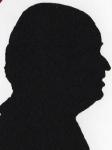 The Duo stands for dual SIM and with various companies offering good deals for one service or another having a dual SIM phone can save a lot of money. As Prestigio phones are sold unlocked you can even use SIMs from two different companies.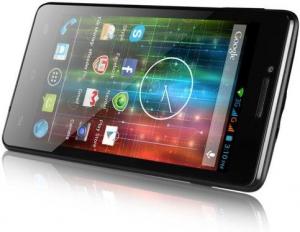 click image to enlarge
I have reviewed a couple of other Dual SIM phones in the past. The last one used a full size SIM and a micro SIM. This uses two full size offerings which piggy back on top of each other but fit in different ways. Also nearby is where any Micro SD card you use fits. All require the back to be removed to insert, but only the SIMs require the battery to be removed.
While on about the back this could almost be a fashion accessory as while the standard back matches the rest of the unit in matt black it also comes with no less than four other backs. Lime Green, Royal Blue, Yellow and Red, the last one could almost be called Pink. So the phone can become a fashion accessory.
It is 14.5x7.5x1cm and quite heavy at 180grams.
The viewable screen is 6.2x11.1cm. If you use the diagonal imperial screen measurement it comes out at 5inches. The screen itself is bright and easy to read indoors.
Boot up is 20 seconds and shutdown is 4 seconds.
As with most Prestigio phones you get some extra Apps which you can install if you wish and also a 90day trial of Navitel Navigator which is a rather good Sat Nav package.
Apart from any Micro SD Card you may use you have 1GB of internal storage.
The top has a micro USB socket used to charge the battery. It also has a 3.5mm socket for headphones. The right side has the on/off button; the left side has the volume rocker button. The internal speaker is quite good and fine for directions from the Sat Nav App.
At the top of the rear is the 5MP camera which has an LED flash. There is also a forward facing camera ideal for Selfies or for things like video calls with things like Skype.
I was happy with the images I took with the camera both with and without flash. It can of course also take video.
The screen itself is quite reflective so on outside use you may need to shield the screen. Indoors it is fine and I found it fast on Wi-Fi, the speed you get using it out and about will depend on what sort of data service you use. Of course it can still be used to make phone calls – old fashioned as I am - and I used one SIM for such calls and another for data.
If you make calls to certain foreign countries it can be useful to have a SIM that specialises in such calls.
Before a call is connected it asks which SIM you want to use and you can choose at the time of each call or let it know that say SIM2 is the one to use for phone calls. This choice is an option in Settings should you wish to change your default later.
The processor is a Dual Core 1.2GHz offering and it runs Android 4.2.2.
While dual SIM phones are still rare in the UK their presence is growing and as prices fluctuate for different services they will continue to do so. This is certainly something to consider at a good price.
The Prestigio MultiPhone 5500 Duo is available SIM free from the link below for £124.33 with free delivery.
http://www.amazon.co.uk/gp/product/B00EHDM9E6?ie=UTF8&tag=gadge0a-21&linkCode=as2&camp=1634