Luxa2 TX-200 Qi Wireless Charging Pad

Published 6 May 2014 Author
bidmead
I first came across wireless charging for mobile phones about four years ago. The device was called the Powermat, and it worked with my BlackBerry Pearl. Unfortunately the phone had to have a bulky new back attached for this to work, making the phone too thick to fit into its nice leather case. Times have changed. A few of today's phones come with wireless charging already enabled; others, like my Galaxy Note 3, have internal connections already in place to accept a wireless charging receiver as an after-market add-on. These can either come as an external protective case, or as a paper-thin internal attachment that fits under the existing removable back and adds hardly anything to the overall bulk of the phone.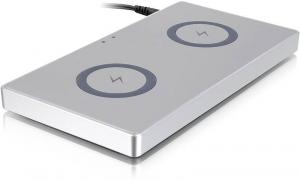 click image to enlarge
The internally attached wireless receiver supplied by Luxa2 for this review is skimpy enough to allow the Galaxy Note 3's flexible back to be reattached, giving this otherwise straight-backed phone a barely perceptible curve. Fitting the receiver was a cinch, the electrical hookup being only a pressure connection between a set of three contacts, with a sticky adhesive strip to hold the new addition in place until you replace the back.
Unlike my old Powermat, which has since evolved into a standard called the Power Matters Alliance (or PMA), the Luxa2 induction charging system plays to an industry standard called "Qi" (pronounced "Chee"). Although both technologies use the same principle of resonant induction (courtesy of Nikola Tesla, 1857-1943) THEY WON'T WORK TOGETHER!
The broad picture is that while phone and tablet manufacturers in general are busy building Qi receiving coils into their kit, the PMA is recruiting retail outlets and coffee shops (Starbucks is a PMA founder member) and equipping them with PMA transmitter mats. So the best of luck with that.
The PMA shows no signs of invading Starbucks UK yet (and in any case I much prefer to make my own espresso) so I'm quite happy to focus on Qi for now. Once the receiver's fitted to the phone, charging is simply a matter of plugging the transmitting mat into the mains and placing the phone accurately onto it.
The Luxa2 TX-200 mat has a pair of induction power charge points, as well as a USB outlet for conventional wired charging. Positioning the phone over the charge point is sensitive and takes a little practice. You get guidance: the corresponding one of the mat's two blue LEDs starts to flash when the phone's in the right place, and as it begins its charge the mat emits a loud beep, answered by a corresponding chortle from the phone.
The near-field resonant induction charging used by Qi is something like 70% of the efficienty of a wired connection, but an overnight stay on the mat was sufficient to fill my Galaxy Note 3's 3200 mAh battery. Your bedside table might seem to be the natural location for the mat, but this may not be best idea, particularly if you have a partner beside you. The blue LEDs are bright enough to illuminate the ceiling, and the piercing beep when the mat engages with your phone could easily wake a light sleeper.
One catch with the Luxa2 wireless receiver is the loss of Near Field Communication (NFC). This is the close proximity data transfer technology being included in newer phones for applications like digital payment and on-the-spot selfie-swapping. NFC uses a similar induction technology to Qi, and the Luxa2 internal coil blocks NFC transmission on my Galaxy Note 3.
Other Qi-fitted phones are likely to suffer the same problem. Luxa2 point out - correctly - that customers have so far shown little interest in NFC, which in some quarters is dubbed "Nobody Fsking Cares".
But I've rather taken to the simplicity of being able to put two NFC-capable phones back to back to transfer data or apps, and I missed this once the Luxa2 coil was installed. Happily there are other Qi receiver kits out there that additionally incorporate an NFC extension coil without adding to the thickness, and I was able to pick one up on eBay for less than a fiver. So now my Galaxy Note 3 can still do NFC, while remaining totally compatible with the Luxa2 charging pad.
The Luxa2 TX-200 dual Qi charging pad has an official price of around $65, although Amazon UK is asking well in excess of this, so you might want to wait and/or shop around. The accompanying Luxa2 receiver kit is easy to fit and works well, but if you're using your phone's NFC function you'll definitely want to look elsewhere.
Should you invest in Qi, when there's a rival incompatible technology? The PMA is keen not to depict this as a standards battle, but is nevertheless fighting hard for its chunk of the market. Its investment in High Street outlets like Starbucks is based on the idea that infrastructure is key - that if all the publicly available pads are PMA, phone tablet manufacturers will have to go PMA too.
There are signs of compromise, with manufactures like Samsung taking a belt and braces approach and talking about building both Qi and PMA into their gadgets. Personally I believe Qi will win the day. The Bidmead family rule about mobiles phones, arising from a string of thefts and losses, is OUTSIDE YOUR HOME, YOUR PHONE BELONGS YOUR PURSE OR POCKET. NEVER PUT IT DOWN ON AN INVITING FLAT SURFACE. Least of all in Starbucks.