Google's Farewell to Motorola: the Moto X

Published Mar 27, 2014 Author
bidmead
Review controls
Google bought Motorola Mobility $12.5 billion in 2012 and has now sold it on to Lenovo for a mere $2.91 billion, retaining, however, a raft of valuable patents. The Moto X is the culmination of Google's breath of life into the previously moribund mobile phone pioneer. Chris Bidmead assess this final fruit of the transitory relationship.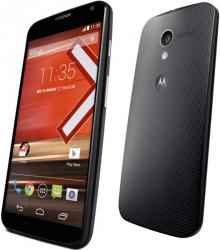 click image to enlarge
Why do we still call these things phones? If my own usage is anything to go by, traditional point-to-point voice communication is no more than 7 per cent of the work we put them to. Tweeting, email, online shopping, Web browsing, photography, photo-copying, ebook reading - these all take up far more of my head-down hand-held screen focus time. My phone's a pocket tablet. I'm using it, for example, to write this blog.
I mention this because my main carp about Motorola's new Moto X is the form factor. Size-wise it's a device from the days when phones were just phones.
But if you're still into small, this could well be the phone for you. The 4.7" AMOLED screen is clear and bright, running nearly to the side edges of the physical device. Resolution is 720p - optimal, I'd say, for a phone of this size - with excellent viewing angles.
One key advantage of AMOLED is that the battery only burns for the pixels that are illuminated. The Moto X takes full advantage of this by providing information on screen while it sleeps, using a few thin white (juice-driven) characters against a predominant black (non-battery-draining) background.
As a hand-held device it's a positive joy to hold, with its elegantly rounded corners and gently curved and textured back. It's a shame that the back isn't removable, so you can't swap out the battery - valuable if you're a heavy user of your smartphone. The other key feature the Moto X omits is expansability - there's nowhere to slot in an extra microSD card.
However, a generous 16GB is built in, and an extra 50GB of Google Drive Cloud storage comes free with the phone, although sadly only for the first two years.
The SIM (you'll need the nano variety) slips into a concealed drawer in the middle of the left hand side the device. On the right hand side the power button and volume control rocker comprise the only physical switches
The Moto X currently runs a commendably unmessed-about version of Android KitKat. One widely touted recent development is the Siri-catchup "OK, Google Now" voice recognition, which allows you, for example, to quiz the sleeping phone as to whether you might need an umbrella today. My own favorite version of this stunt is to interrupt a dinner party with a loud "OK, Google Now. How old is Christopher Hamilton Bidmead?" After a ching and a ping or two, a female voice from my shirt pocket announces: "Christopher H. Bidmead is seventy-three years old," the genie inside the Moto X having consulted the Wikipedia for the information.
This party trick is a feature of what Motorola calls "Touchless Control", which includes the ability to phone or message anyone in your contact list simply by speaking their name. Likewise "OK, Galaxy Now. Note to self: We've run out of broccoli" can open up Evernote and stick the alert into your Sundries Notebook as ASCII text.
The Moto X needs some short preliminary voice recognition training to achieve this, which is probably no bad thing. The roughly equivalent feature on my Galaxy Note 3 is evoked with "Hi, Galaxy", a trigger that's recognised with no training. Unfortunately, this encourages it to jump in whenever it thinks it hears anything remotely like "Hi, Galaxy", and I've been obliged to disable it.
Another neat feature is quick access to the camera function. There's no dedicated camera hardware button (I really like the austerity of design) but you can set the camera to jump into action literally in a couple of shakes - it responds to a double twist of the wrist and will take a picture with a tap of a finger anywhere on the screen.
So all in all, a nice piece of pocket hardware, if a little too wee for me. A downside I should mention: UK customers don't get offered the extensive colour customisation that was an important part of the Moto X's appeal in the US.
Since the launch of this phone, Motorola has passed into the hands of Lenovo. I can't say I'm entirely happy about what this company did with IBM's classic ThinkPad notebooks, and am firmly crossing my fingers that the Motorola brand fares somewhat better.