LG Prada Mobile Phone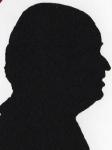 Review controls
Another item launched last year among glitz and glamour at no less a venue than Claridges. I was told it would be on sale in January – maybe is was – but review units only arrived with the UK agency at the very end of March.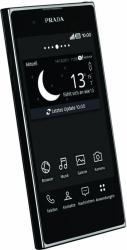 click image to enlarge
Anything with the Prada name is a status symbol, however will this unit coming from LG a huge name in electronics as well as mobile phone make the perfect phone for use on the streets, I have tested it for the last month.
It looks classy the mottled black back looks like a skin, the face is black a little reflective but not as much as most. Switch on and you see the theme as all the basic icons are monochrome, for colour move to the Google service screen.
It is of course a gimmick but one that looks good, the screen is bright and clear and it comes with Android 2.3.7. For those like me who turn their phone off its 20seconds startup and 8seconds to switch off.
It is 12.7x6.7x1cm and weights 140grams. The viewable screen is 9.3x5.7cm and is true monochrome and not just black and white.
As you might suspect there are few buttons the left side have two for volume up and down and the top has three silvered descrete round buttons looking more like studs as well as a 3.5mm jack for earbuds and a micro USB connection.
On some units the home screen looks cluttered here it is busy but everything can be clearly and easily selected. It is the middle of seven screens (only five pre filled) and you always know where you are by a row of dots with the one you are on highlighted. Above this a row of tiny icons, time, battery state, Wi-Fi, near field, Skype, mail and messages.
Below this current weather in symbol and number form together with last update time. Next blank space before two lines of four icons, Browser, Music, Gallery, Camera on line one and Phone, Contacts, Messaging and Applications on line two. Below the screen are four touch buttons including back and Home both useful during learning.
Briefly the other screens are Favourite Contacts, Social Networking, Blank, Google, Calendar and finally another blank screen.
Pressing the Applications icon produces four rows of four icons and scroll down for another 16 icons in the same format. Scroll again for your first glimpse of colour with three rows of four under the Google Services heading. Below this anything that you Download like Skype, Dropbox, London Bus Times and others we all need.
You get 8GB of user memory, you can also insert micro SD cards up to 32GB in size. It has a rather nice 8MP camera mounted in the rear (top right) and it has LED flash, I found the display (one touch from the top of the unit) very good especially in low light, there is also a front facing camera idea for video calls. The screen resolution is WGVA (800x480) but both the monochrome and colour screens are crisp and easy to read.
Look beyond the Prada name and this is a thin and very versatile phone, LG have a long list of popular phones and this will no doubt be another. Unlike some recent phones the battery is user changeable for heavy users.
Perhaps I am the wrong person to discuss style but I thought it was smart and the thing I can say was it worked well and perhaps most important of all it was easy to use.
Doing my searches found the Prada phone by LG 3.0 at around £23 per month over a two year contract. The phone is Free. Various PAYG deals available for expect to pay close £500 for the phone upfront.
http://www.buymobilephones.net/mobile-phones/LG/1/1/1/13436225