Panasonic DECT Phone KX-TG6481ET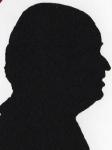 Here a home phone from Panasonic that is tough and stylish and it is even capable of working after being encased in ice. I know they do tough notebooks (Toughbooks) but surely encasing a phone in ice makes that tough as well.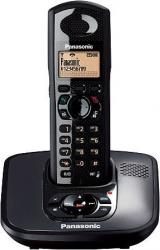 I have my doubts about my abilities to be hard enough to review this 'Shock & Splash' resistant handset. At the launch it was encased in a large ice sculpture. Is that what they call 'splash'? I am really worried as to what they call 'Shock' as I have visions of a sequence in an old 'Gadget Show' where they got a tank to go over 'tough' phones.
This Panasonic DECT Phone (KX-TG6481ET) measures 16x5x3cm and weights 160grams. The base station is 13x13x5cm the last figure is maximum as it is only 2cm at the front sloping to the 5cm at the back.
There is an eight page well illustrated 'Quick Guide' that is probably enough to get most up and running. Should you need more information there is a forty eight page 'Operating Instruction' booklet that covers everything.
The controls on the base station are the ubiquitous five position joystick with four shaped buttons around the outside making a total of nine, a clever design. Underneath the unit are entry points for the phone cable and power adapter.
The phone itself has 25 buttons including three soft buttons whose jobs change according to what you are doing. Above the buttons is a 3.4x2.2cm display. Apart from the docking connectors in the base the only other connectors are a catch revealing the battery bay where the two 'AAA' rechargeable batteries are inserted and a covered hole for a headset.
The unit has a solid feel but as I have to return items in good condition I was reluctant to drop, play football or give a bath to the unit.
This is not only a standard DECT phone but the base unit has an answer phone in it. The stated standby power required by the base unit .8watt and a maximum power draw of 4.2watts. The batteries are stated to work for 17hours in constant use or 180 hours in standby.
The answering machine has a memory to accept twenty minutes of calls including any outgoing message you set. Of course you can screen incoming messages before you decide to answer. Messages can be replayed through the handset or the base station.
There is a belt clip to allow you to take a handset with you so for instance while gardening or washing the car you can still take or make calls. Although I did not try it you can wall mount the base unit ideal for those short of desk or table space.
I used it as my main phone and answer machine for a couple of weeks, sound quality was clear and the messages on the answer machine were easy to follow. Perhaps the screen on the phone could have been sharper.
The unit will support extra handsets and according to the person I spoke with at the launch even handsets from other manufacturers should work. This is a nice solid handset that looks capable of being abused but I am sorry to say I would/could not test it in the sort of conditions they seem to think it is capable of working in, yes I am a chicken.
Doing my Internet searches found the Panasonic KX-TG6481ET at a best price of £54.03 including free delivery from the first link below.
http://www.amazon.co.uk/gp/product/B001WAKSG8?ie=UTF8&tag=gadge0a-21&linkCode=as2&camp=1634
http://www.panasonic.co.uk/html/en_GB/Products/Telephones/DECT+Phones/2764227/index.html