Siemens Gigaset E365 - Big Button Cordless Phone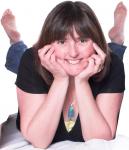 A versatile home and small office telephone unit with up to 4 handsets and built in answerphone.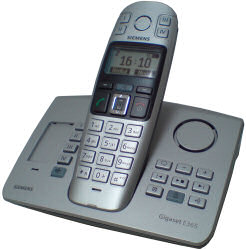 This is a good phone for a small or home office, or even a family of 4.
You can have up to four handsets on the Siemens Gigaset E365, each of which can be used as your own personalised telephone on the same incoming telephone number (although of course only one of you can make or receive a call on an ordinary line at any one time). With a menu set-up not at all unlike a mobile phone, you can save up to 100 entries in each handset, however, you can also set up a directory in one handset and send to the others. When in the directory you can scroll up and down to view the names of people in your directory and then just speed dial when selected. Particularly important, or frequently dialled numbers, can be programmed into the 4 individual keys at the top of the handset. Siemens call these the SOS numbers as when you call one of the SOS numbers and they don't answer then the phone automatically calls the other SOS numbers in sequence until one answers.
Like mobile phones the keypad can be used for letters as well as numbers, and if you can set it up with your network provider you can send SMS messages from this phone.
Each of the phones can be used as internal handsets, so up to four of you can call each other within the normal range of a DECT phone without charge. In our offices we can be at least 30 feet from the base station to make and receive calls.
The base unit has an integral answering machine. Access to the messages is by holding down digit 1 on the phone. This can also be programmed to speed dial to your network provider message service if you prefer to use this.
Among the many features are alarm clock, last number redial and calling line identification (if you network provider supports this). For the home or small office situation there is also conference call facility where each handset can listen into a call. When on internal calls, the external call waiting can be very useful. Paging the handsets from the base station is handy for when you mislay your telephone (very often in the GadgetSpeak office!) Loudspeaker functions come in handy when trying to play with your gadgets and talk on the phone at the same time.
The handsets are a little on the large side, but are pretty light. These handsets could also work well for slightly older users who may have shorter eyesight and/or any problems with manual dexterity, as the buttons are larger than on many handsets, but without being ugly. There is also a large display mode. The SOS facility has obvious benefits for elderly or unwell, as only one button needs to be pressed to get to your SOS numbers.
All in all this is a very easy to use and programme unit, with just about every telephone facility you can think of for a home/small office use. I'd be happy to have these for our office telephones and equally for any elderly relatives.
The Siemens E365 comes with one handset and you'll need to purchase the others separately.
Base station and first handset:
http://www.amazon.co.uk/Gigaset-E365-Button-Cordless-Phone/dp/B000PUFOJ2

Additional handsets:
http://www.amazon.co.uk/Siemens-S30852-H1853-B101-Gigaset-E36/dp/B000IDQ3BO