Getting Gigabit from USB

The Kanex DualRole Gigabit + 3-Port Hub, which is compatible with those Macs and PCs that have a USB 3.0 port, will be of interest to users of machines lacking an Ethernet port. When plugged into a USB 3.0 port it provides that missing Gigabit connection as well as extra USB 3.0 ports.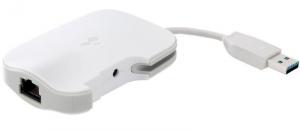 click image to enlarge
Although wireless LAN is increasingly seen as an alternative to an Ethernet connection – especially in the small screen lightweight and yet high performance laptops -- many will find the additional connectivity provided by the DualRole a major benefit. After all, a wired Gigabit connection is more secure than Wi-Fi, faster and often more convenient.
It is roughly 90 x 60 x 15mm in size, weighs 54g, and feels substantially made so can be packed neatly in one's computer bag when on the road as well as being used on the desk back at base. Its two faces are white in colour with grey strip running all the way round. It has a short USB cable to connect to the "host" which, when not in use, stows neatly into one side. The three USB 3.0 ports are on the opposite long face and the Gigabit Ethernet port, which is 10/100/1000Base-T compatible, is on one of the ends. Overall, it is only a small amount larger than a portable USB hub without the additional gigabit connectivity.
While it can be used straight out of the box as a USB hub the necessary drivers from kanexlive.com need to be downloaded and installed for Gigabit operation. Where more power is required to drive attached USB devices than is available from the laptop to which it is attached, one can connect an external 5V power supply to the provided connector. This connector is accessible once the attached USB lead is moved out of the way. Should this be required, the Kanex Universal Power Adapter (5V) for the DualRole, which provides up to 900mA for each port, is available from kanexlive.com priced £19. This comes complete with UK, US, EU and Australian mains connectors.
Although not cheap at £59.95 on the kanexlive.com web site the DualRole could well be the ideal tool for the busy traveller as it provides the additional USB 3.0 ports as well as offering Gigabit Ethernet access all in a small convenient package. This may be seen as a small price to pay for a tool which provides added connectivity and so will make it easier to concentrate on their real job.