USB OTG for Android phones

Vendors Verbatim and Kingston Technology are both using the USB OTG (On-The-Go) technology to enable users to overcome the lack of a micro-SD slot in some Android tablets or smartphones which prevents additional memory being added. This technology provides the means of expanding the storage of compatible devises to as much as 64GB.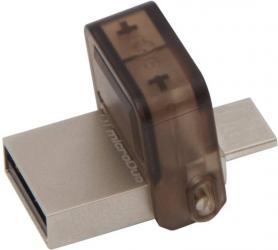 click image to enlarge
OTG is an enhancement to the USB specification. It allows a compatible tablet or smartphone to act as a host to which flash drives and other USB devices can be attached. This is a very useful facility as it can be used to provide a device with additional memory as well as enabling files to be backed up without the need of a PC connection. Then, in due course, as the flash memory stick has a standard USB connector, it is also a simple task to subsequently transfer files to/from a PC.
The ability to add this extra memory overcomes the limitation of the internal memory and so enables users to carry a complete music or video library on their smartphone or tablet and yet still be able to store a large number of hi-res photo images or even HD videos.
As the devices are USB 2.0 (not USB 3.0) file transfer will not be "instantaneous" where large amount of data is being transferred to/from a large capacity drive.
These two vendors have each adopted a different approach. Kingston's DataTraveler microDuo has a micro USB connector with a flip-over dust cap at one end and a standard USB connector at the other while Verbatim's solution is to use one of the company's normal Store 'n' Stay Nano USB drives combined with a micro USB adapter. They each weigh just a few grams and, even though the DataTraveler is slightly shorter at about 28mm. However, when inserted into a tablet or smartphone, its dust cap sticks out awkwardly. On the other hand it has a built-in key loop so that it can be attached to a lanyard so as to minimise the risk of losing it when it is not in use.
Overall, they are both reasonably convenient to use where the micro USB connector is at the top or bottom of the smartphone and not at the side. No such problems were envisaged with a tablet.
Having first of all checked and confirmed that your device is compatible you can buy Verbatim and Kingston USB OTG flash drives from Amazon with prices starting at £6.71 and £3.75 respectively for 8GB devices. Both vendors also offer capacities of up to 32GB with Kingston, in addition, also offering 64GB.