Step by Step Computer Networking

Networking your Computers & Devices Step by Step from the Microsoft Press is a guide to networking a Windows 7 PC with one or more other PCs. As well as networking with other Windows 7 machines, this book also covers networking with Windows XP, and Mac or Linux-based machines as well as sharing printers, devices and files across the home network.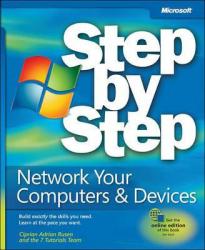 Today there are a growing number of homes with two or more PCs. They frequently talk to the Internet via the same broadband router but, all too often, they don't talk to each other.
This Microsoft book written by Ciprian Adrian Rusen takes one through the necessary steps to set up a network commencing with actually setting up the broadband router. This included the wireless settings. Where the author thinks it necessary, there are explanatory notes, tips, security notes and recommendations. As a result one is able to gain a useful understanding of what one should, and should not, do -- and why.
Starting with user accounts and workgroups, I had no problem following the stages required to set up a network linking an XP machine with a Windows 7 one. Although I only set up a wired network, the book covers wireless connections and stresses the importance of, and issues related to, wireless security.
The sharing of libraries and folders is important. However, one doesn't necessarily want to give other users blanket access to all one's files. Consequently, there are also explanations of how to share with specific people and, equally important, how to stop sharing.
Sharing printers and other network devices such as a memory stick or a removable hard drive is also covered before it goes on to Bluetooth. Here, after an explanation of Bluetooth it describes how to enable Bluetooth on your PC (if, of course, it is available) and likewise on your mobile phone as a precursor to pairing between the computer and the mobile phone and then the exchanging of files between the two devices.
Some 60 pages are devoted to streaming media over the network and the Internet and there is an even larger section is devoted to network security. Parental control is not overlooked.
There is much valuable information in this book for users of Windows-based PCs. However, there are a number of PC users who also use other operating systems. While the majority of PC users will ignore these sections, they will be a boon to those who use either of these other operating systems. Here, the needs of Mac and Linux users are not overlooked with sections devoted to Mac OS X and Ubuntu Linux. While it is, apparently, quite simple to network Mac OS X machines with Windows 7, it is less straightforward with Ubuntu as it is necessary to install a special Ubuntu sharing service. This, as one would expect, is covered.
Networking is often seen as a "black art". Consequently, this 500 page book should be of interest to those wish to link up two or more PCs. Networking your Computers & Devices Step ISBN: 978-0-7356-5216-3. Which comes with an online version, has a cover price of £22.99 and is also available on Amazon at £14.94 where a Kindle version is also available.