Pulse Smartpen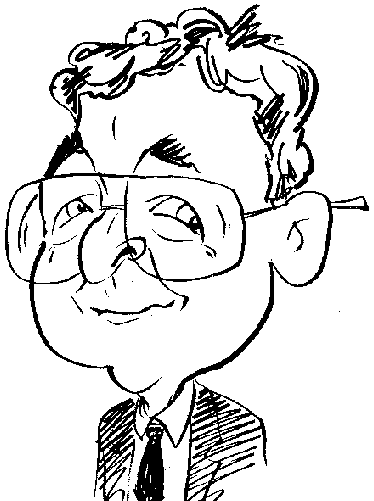 Combining the ability to take digital notes while recording audio is a product that could be said to have its finger on the pulse.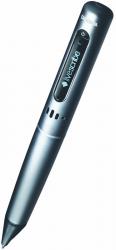 click image to enlarge
In the past I have looked at smartpens from IRIS and E-pens. Both units were quite happy to work with any standard paper for taking notes and creating diagrams which could then be transferred to a computer via a USB link up. Now it is the turn of the Pulse smartpen from Livescribe, a company which is not to be confused with the similarly sounding Lightscribe (optical media labelling technology).
Thicker than an average pen, the Pulse smartpen features a removable ink cartridge at the tip along with an infrared camera and a jack socket at the other end where you will also find a display panel, built-in microphone and speaker grill. Power contacts for linking to a charging point are located on the underside of the pen towards the tip. The Pulse smartpen kit is made up of the main smartpen device with 2GB of memory, headset, USB mobile charging cradle, a soft pouch for keeping the pen safe when in transit, starter notebook for taking notes and an ink cartridge refill.
As you might guess from this content's list, the Pulse smartpen differs from the IRIS and E-pens products in that it requires its own special paper when creating its notes and diagrams. Each of the double-sided sheets of paper making up the starter notebook is covered with a pattern consisting of thousands of almost indistinguishable dots to the naked eye. The infrared camera built into the Pulse smartpen, which can take 72 snapshots per second, is able to detect these dots and use then to provide the reference data to recreate the input when the pen is attached to a computer. But the Pulse smartpen does not stop there with its functionality.
As well as the infrared camera capability, the Pulse smartpen features a microphone that can capture any audio that is occurring during the note-taking process. With this feature you can be busy scribbling down your notes while the pen is busy capturing the audio to ensure you do not miss anything. Not only does the Pulse smartpen record this audio but it is also capable of linking the various sound bites to the actual notes being composed at that precise moment. Simply tapping the text with the pen has the effect of playing back the appropriate audio with options to speed up and down plus adjust the volume level of the playback. By attaching the supplied ear-plug style of headset to the pen is meant to give 3D all-round sound to the capture but I was unable to detect any real advantage when using or not using the headset.
Along with the dots, each page of the Livescribe book comes with a series of icons running across the bottom of the page. These icons allow you to activate various features supported by the Pulse smartpen. A four-pointed cross-haired arrow arrangement can be used to call up and navigate the menu plus select a particular task. There are also other icons to record/pause/stop, jump, add a bookmark, jump to a position in the audio playback and adjust both its speed and volume level. To use these features you just need to tap the appropriate icon with the Pulse smartpen.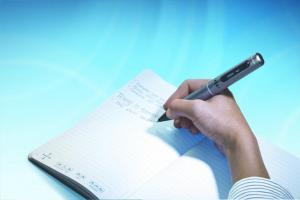 click image to enlarge
When mounted on the supplied cradle connected to a computer via USB, the Pulse's internal battery will be recharged. On a full charge you should get around 4 hours of note-taking and audio recording. The unit's 2GB of memory should provide 200 hours of recording.
The initial setting up of the Pulse smartpen requires you to log onto the company's website to download and install the Livescribe Desktop software. You can then opt for the pen to be used by a right or left-handed user plus set the date and time. An option is available to set up a personal account which gives you 500MB of free storage space that will allow you to share content with others. When you place the Pulse smartpen on its cradle, any content will be automatically transferred to the computer. You then have access to the content with notes appearing as you created them apart from one slight difference. Text that has accompanying audio will be coloured green while other text will be black. You can then transfer items to your online storage.
Rather unfortunately the Pulse smartpen does not come with any software, even a trial version, to convert your notes to editable text. Third party software is available to carry out this task but these offerings require an additional purchase. I feel that Livescribe has missed a trick here and should reconsider whether to bundle even a limited version of conversion software.
Adding some extra functionality and, in one case, a touch of frivolity, are a calculator feature and the ability to draw and play a mini-piano keyboard. You also get a trial version of a translator feature. Selecting from Spanish, Mandarin, Arabic or Swedish you can have 14 different words translated. Included in this limited vocabulary are hello, please, chocolate, beer and banana.
Capable of working with a Windows or Mac system, the Pulse smartpen has a £149.99 price tag although I have seen it on sale at £128.99. Replacement ink cartridge refills are available at £4.99 for a pack of five while four A4 notebooks will set you back £17.95. However if you have a colour laser printer you might be able to print your own Livescribe enabled paper. You will need a 600MHz or better processor with 300MB of hard disk space, USB port running Windows XP (SP2) or Intel-based Mac OSX 10.5.5.