A Belkin Router-Modem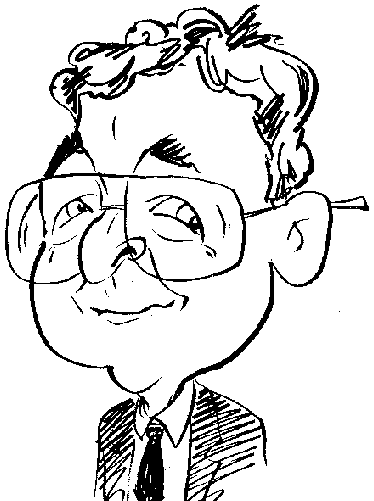 Review controls
While some like the reassurance of flashing lights to indicate activity, Belkin has opted for a single steady light to show power/connection with its new range of network routers.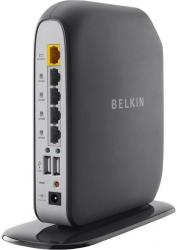 A few months ago Belkin announced a new approach to home networking with the arrival of its range of Surf, Share and Play routers. Belkin claims that these new products have been designed to make it easier for consumers to get online and connect all the various computing and entertainment gadgets into a home network environment. Recently I have been putting the company's top-of-the-range Play Max Wireless Router with a built-in modem through its paces.
Central to this kit is the router-modem unit. Predominately grey in colour, this router-modem measures 44 x 155.4 x 179mm (W x D x H) and adopts an upright stance helped by a stand base which adds 31mm to the width and 26.6mm to the depth of the unit. Positioned in the front, top corner are a power light and a WPS button for activating the wireless element of this product. Located at the rear are connections for power, telephone, four Ethernet ports and two USB ports. The USB ports can be used to link external hard drives (FAT16/32 and NTFS) and USB printers.
Featuring 64MB of RAM and 8MB of Flash, the router-modem supports simultaneous 802.11n dual-band with claimed speeds of up to 300Mbps although actual performance figures tend to fall someway short of this. Depending upon circumstances and your equipment, you have a choice of 2.4GHz or 5GHz. The protected Wi-Fi gives you 256-bit WPA/WPA2 and 64/128 WEP encryption. The modem supports ADSL2+.
Along with the router-modem, this kit consists of a reasonable length of power lead; a less-than-generous 116cm Ethernet cable; and 149cm telephone connection lead. An ADSL on-line filter adapter is provided for use with the telephone lead. Finally there is a CD which holds the supplied software and an electronic copy of the User Manual.
While the lack of a printed hard-copy of "Getting Started" instructions might be a little worrying, you do get four labels, one of which is attached to the CD envelope and another stuck on the side of the router-modem unit which contains the Network name (SSID) and password. The other labels, numbered 1, 2 and 3, cover the three-step process for the initial set-up of the product. Step One is to connect the telephone lead; Step Two involves attaching the supplied Ethernet cable to your computer and router-modem; with Step Three requiring you to insert the CD into an optical drive.
The actual software installation is sort of automatic but can be time consuming. In my case it took 30 minutes of thumb twiddling as the software installed itself, then removed itself before re-installing itself – maybe this was part of the Self Healing feature mentioned on the packaging but I doubt it. At this point some user intervention is required as you enter your country, SSID and password details to set up a wired and wireless network.
As mentioned earlier, there are two USB 2.0 ports that can be used to add various peripherals to a network. Obvious candidates for this role are a printer and a shared storage device. USB Print and Storage Manager software is provided for this purpose. Located on the Belkin Router-Manager icon sitting in the system tray, this software lets you manage and monitor the use of appropriate devices.
Several other items of software come bundled with this product. Memory Safe is a utility for setting up a back-up schedule while music labeller adds track details to the music stored in your iTunes and Windows Media libraries. Also working with iTunes and Windows Media is Daily DJ which creates playlists from your music collection.
Having set up your network the way you want, an occasion may occur when you want to let an outsider join in on a temporary basis. Using the unit's Guest feature you can permit this to happen. You will need to supply your guest with the appropriate password to enter into the guest portal web page.
After using this router-modem for a short period it suddenly failed to connect to my Broadband service. This problem was identified as an incorrect setting and was quickly put right. Since then there has been no problem in making a connection although it would be lost occasionally. When this happens the Belkin device quickly re-establishes the connection.
Priced at £119.99 (there is a version available without the modem feature for £20 less), the Play Max Wireless Router-Modem is an interesting piece of kit although the initial software installation did stretch my patience to a degree. This kit is compatible with Windows XP and later or Mac OS X v10.5 and later.