7 Port Hub and LCD Clock in Can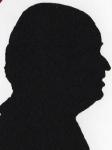 Here I am looking at two more unusual items, first a 7 port USB hub with all ports switchable. Second an LCD water powered clock in what looks exactly like a soft drinks can, the surprise for regular readers is only one is from Brando.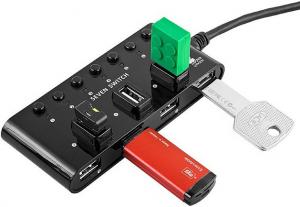 click image to enlarge
iMONO 7-Port Hub with On/Off Switches
This is the Brando item, it is 12x4.5x2cm. Mine was white, it has a hard wired USB of 1.1metres with a fly lead of 30cm to provide extra power if your items are draining too much power for all eight ports (explanation to follow) and you can even extend the USB cable length to 'over 10 metres or longer (double that of others)'
So why did I say eight ports simply because the rear of the unit has a micro USB port to allow devices with such connections to charge from the unit.
The front has USB ports 1, 3, 5 and 7 with the top having ports 2, 4 and 6 the micro port is on the back of the unit.
Along the rear of the top there are a row of seven push buttons with an LED in front of each and the numbers 1-7 in front of that, any button that you push down the LED lights and that port is then live, thus it controls which devices are attached to a PC without you having to remove them. The 'safely remove hardware' message does not seem to be affected by the on/off pushing of the buttons. I tried it with Windows ME, XP, Vista and 7 all worked as you would expect.
Ideal for someone who attaches a range of devices and needs to keep switching, also good if your ports are behind the PC and not that easy to get at, especially good if like me you have a dodgy back and stretching is not good.
Available from the link below for $20 (US) with $3 (US) p&p whatever the size of your order.
http://usb.brando.com/imono-7-port-hub-with-on-off-switches_p01196c039d15.html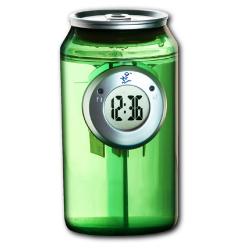 click image to enlarge
Water Powered Can Shaped LCD Clock
It is 10.5cm tall and 6cm round, mine was green but the box also shows blue, orange and silver grey as alternates.
This requires no batteries simply fill the inside of the cans two compartments with water the levels are shown on the outside of the can. The lid simply lifts off and then pushes back on.
By now the clock will be working, the display is round 2.4cm across the numerals are just over 1cm tall so a time like 23:45 just fits in the available space.
Unlike a lot of these LCD units that are a work of art to set it could not be easier. There are two buttons on the clock surround the one at 10 adjusts the hours and is marked with a 'H' and the other at 2 adjusts the minutes and is marked with a 'M'. You will need something like the tip of a biro to adjust the time. However during the test period of several weeks it has seemed to keep perfect time.
A novelty yes, the seven level instruction sheet says 'one fill will last at least two weeks' well nearly a month later I have yet to refill it but in the winter (unless you have central heating high) you are unlikely to suffer evaporation.
Available from the link below for £9.99