Ecobutton and Energizer Batteries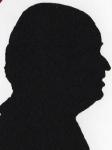 Two items that fit rather well together the first something to allow you to save as much power as possible in your computer. The second something we will all need if power is not saved so here some batteries that last and last.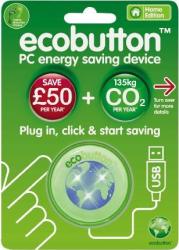 Eco-Button
If you are one of the millions that leave a computer turned on and unattended you could be flushing money down the drain. Apparently this will not work with MAC's but as MAC owners already pay over the odds what's a bit more.
It is a power save mode that works instantly and even tells you how much power and money you have saved by doing so.
It fits onto any USB port and on first use finds out just how much power it can cut without stopping the PC being immediately able to resume from where you left off, so you can even save money when you go to make a cup of coffee and definitely while you eat lunch. This little device can even lower your carbon footprint.
It is a circular 5cm button it is only 1.5cm tall and as stated attaches by USB lead to your PC. The bold statement on the packaging is that it can save £50 per year and this is equivalent to 135kg of CO2 there is of course an asterisk but this comes down to the button being in use for four hours a day over the year, hardly a huge amount of time.
Lots more detail available from the second link below. Doing my Internet searches found it at a best price of £10.79 (including shipping) from the first link below.
http://www.amazon.co.uk/gp/product/B001D5LZ0K?ie=UTF8&tag=gadge0a-21&linkCode=as2&camp=1634
http://www.eco-button.com/uk/A3.10.about.htm
Energizer Batteries
We all use a lot of 'AA' and 'AAA' batteries. The latter are favourites for remote controls. Of course the heavy users are toys and digital cameras.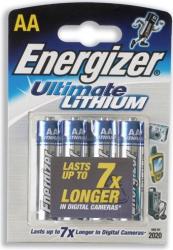 Energizer have brought out what they call 'Ultimate Lithium' a battery stated to last for up to 630 camera shots. Of course the major name (according to advertising hours) is Duracell but next time you buy more disposable batteries why not give Energizer Ultimate Lithium a try. If you agree (or disagree) then write a comment.
I was also sent a NiMH charger that charges both 'AA' and 'AAA' batteries and it came with four 'AA' batteries. Not in itself anything remarkable but it does have a rather unusual claim in that dependant on the mAh of the battery they will be recharged in an hour.
The figures as laid out on the back of the packaging 'AA' 1300mAh .6hour, 2000mAh 1hour, 2500mAh 1.2hour, 2650mAh 1.3hour. For 'AAA' batteries the figures are 700mAh .8hour, 850mAh 1hour, 1000mAh 1.2hour.
Certainly the 2450mAh seemed to be fully charged in just over 75minutes which seems to be in line with the figures above.
Unlike a lot of chargers that have the plug welded to the charger this unit has the power in the plug and a lead to the battery charger fitting via a socket in the top of the charger as with almost all devices that use power adapters.
Doing my Internet searches found Energizer Ultimate from as little as £2.99 for four but the cheapest price was for six at £5.88 including free delivery.
http://www.amazon.co.uk/gp/product/B000TOC2QM?ie=UTF8&tag=gadge0a-21&linkCode=as2&camp=1634